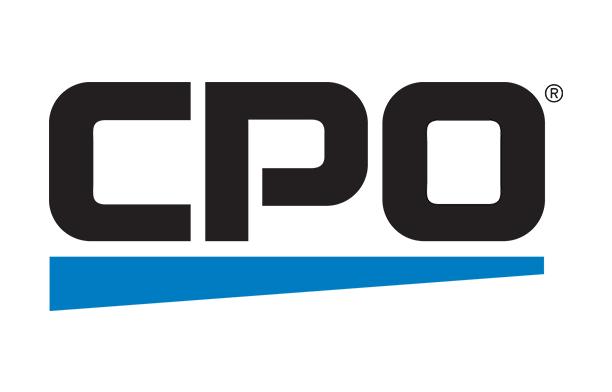 How to Build
a Picnic Table
WHAT YOU NEED FOR THE PROJECT:
Tools:
360-degree Adjustable Protractor
Materials:
Crown Molding
8D Finishing Nails
Wood for blocking
Masking Tape
Paintable Caulk
Job Preparation
Pick your molding. A good basemark is 1/2" rise for every foot of ceiling height. A well-balanced crown molding is usually a little narrower than your baseboard
Hold a piece of molding in place to judge what alignment to place your crown
Put masking tape around the walls and ceiling so the rail trim will cover about 1/2" of tape
Use stud finder to find studs and ceiling joists, mark where they are on the tape
Mark framing locations and snap chalk lines on tape
CPO Tips:
Since solid wood molding is more expensive, molding made from MDF (combination of wood and resin) can save time and money. Do not use in kitchens or bathrooms because humidity will make MDF warp.
Ex.) 1: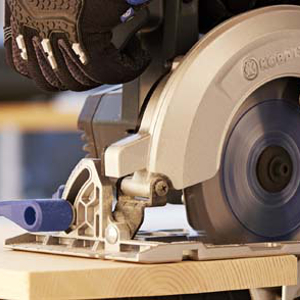 Ex.) 2: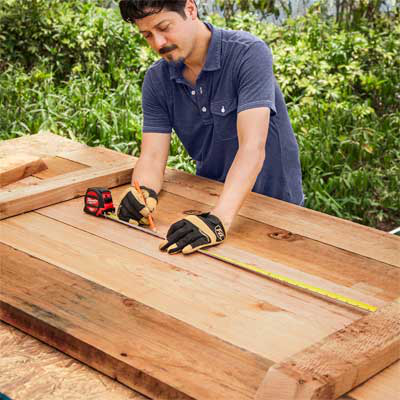 Ex.) 3: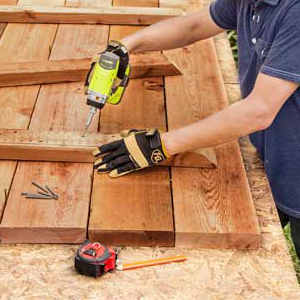 Diagram 1: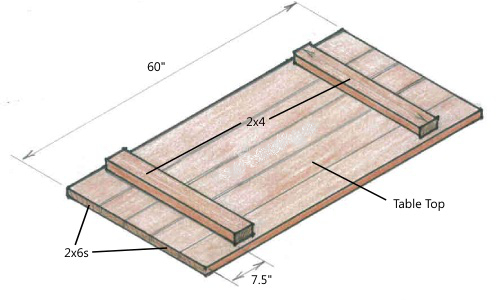 Measure Corners and Cut Molding
Measure the length of wall for your first piece of molding
Room corners are not always a perfect 90 or 270 degrees. Use your adjustable protractor to find the angle of the corner
Adjust miter saw accordingly and cut the first piece
CPO Tips:
The holes that secure the legs (B) to the upper support (A) should be drilled 2" from top of upper support (1 1/2" from bottom), so the carriage bolts won't be in the way.
Ex. 1:

Diagram 2: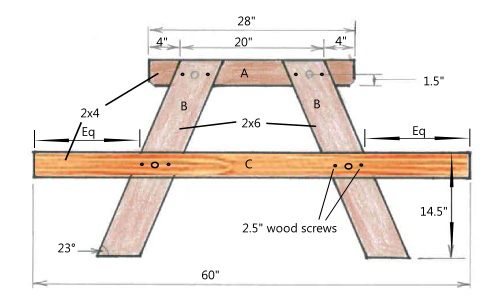 Attach Leg Frames to Table Top
Position table top upside down. Using four 2.5" wood screws, attach leg frames to braces on bottom of table top
Using the last 8 ft 2x4, cut two 24" pieces with a 45 degree angle on each end. These will be your leg frame braces
Measuring from the bottom of the table top to the bench support, make a mark 17" on the middle of the support
Make a second mark on underside of table top from the inside area of the bench support to center board on underside of table top.
Your leg frame braces should line up with the marks you just made
Secure braces with 2.5" wood screws and then with carriage bolts
CPO Tips:
If your leg frame braces do not line up with your marks, pull the leg assembly over until they do, otherwise the legs / table top won't be 90 degrees.
Diagram 3: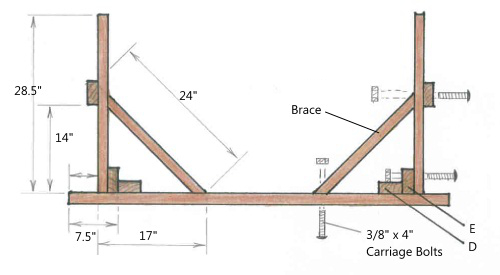 Finishing Your Classic Picnic Table
Flip table up and install your seats with the 60" 2x6 timber
With leftover scrap wood, add supports underneath the seats and table top in the middle, to keep them aligned
Cut supports to be approximately 1" from either edge of table top or bench seat. Finish up with 2.5" wood screws
Enjoy your new classic picnic table!
Diagram 4: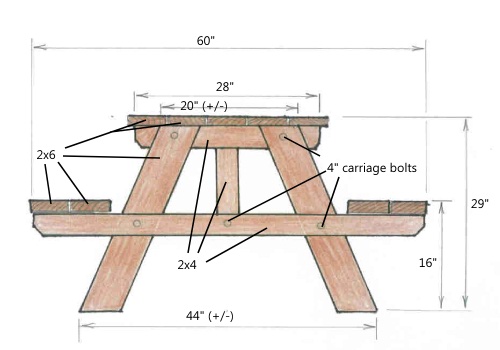 Diagram 5: