The Festool Carvex Jigsaw: The Beauty Of Precision
Jigsaws are not frequently associated with precision cuts, but engineers at Festool have ensured that this line of jigsaws will have a level of precision unlike others. The frustration of dealing with unattractive splintering, wandering cuts, and laborious rework are eliminated with Festool's efficient system.

Festool utilized a three way blade guide to ensure that tradespeople will have the precision that is necessary to make sure the job is done right the first time. The u-bolt rests in the shaft with the roller bearing sitting behind the blade, with adjustable carbide tipped jaws that guide the blade as close to the shoe as possible. The clear cut that is created is perfect and it will be that precise every cut you make.

If you are seeking ultra-clean cuts that do not require re-working, this is the jigsaw for you. The zero-clearance splinterguard offers a superior line while the low vibration increases your control. The tool basically does your work for you with a constant speed under load, variable sped control, and a soft start. The simple level for a FastFix blade change makes it simple and quick to enable a blade change without tools. Jigsaws from Festool offer the best and most powerful motor for accurate and easy cuts, regardless of the material.
Carvex Splinterguard
zero-clearance perfection
A drastic reduction in splintering during cuts, occasionally completely eliminating splintering that occurs with cuts
The Carvex splinterguards ensure that jagged and unattractive edges are no longer a concern
Zero-clearance is custom fit to your jigsaw, created by being cut into its place using your jigsaws blade for a perfect fit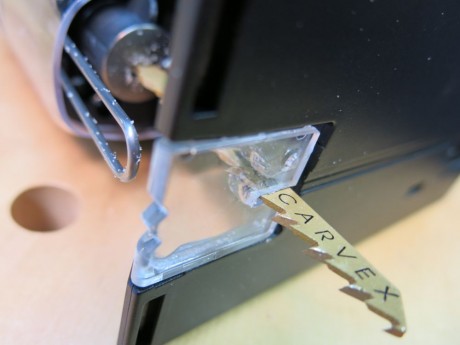 Crafted For Comfort
designed for work
Multiple Designs - It comes with two designs for ease of use, with a shorter D-handle as well a the low-profile barrel grip. Both of these designs are created to be used with Festool precision jigsaw blades to offer the incredible high quality performance that you have come to expect from Festool
Increased Comfort - Your performance can be greatly affected if you are not comfortable while you use your equipment. The Festool team ensured that your jigsaw was engineered expertly for the maximum comfort and ergonomics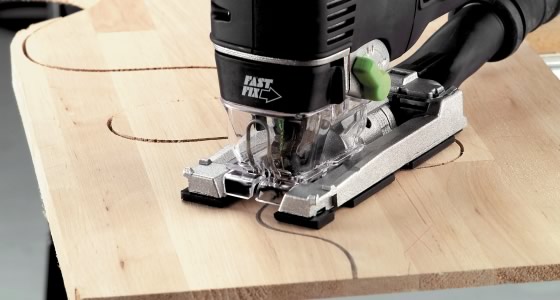 Do More
than you thought possible
Task-specific bases make sure that you are saving time while you work while improving your overall quality
The circle cutter offers the opportunity to make a flawless circle. The centering mandrel is designed to cut exact circles in different diameters, ranging from 4 23/32" to 28 11/32"
The guide stop attachment will make sure that you have straight and smooth cuts that are easy to replicate throughout your entire project. Your jigsaw will easily connect to any Festool guide rail for those flawless lines you have been seeking
To ensure that you will always have the items that you need, you can purchase all the items together or separately in the Carvex Accessories Systainer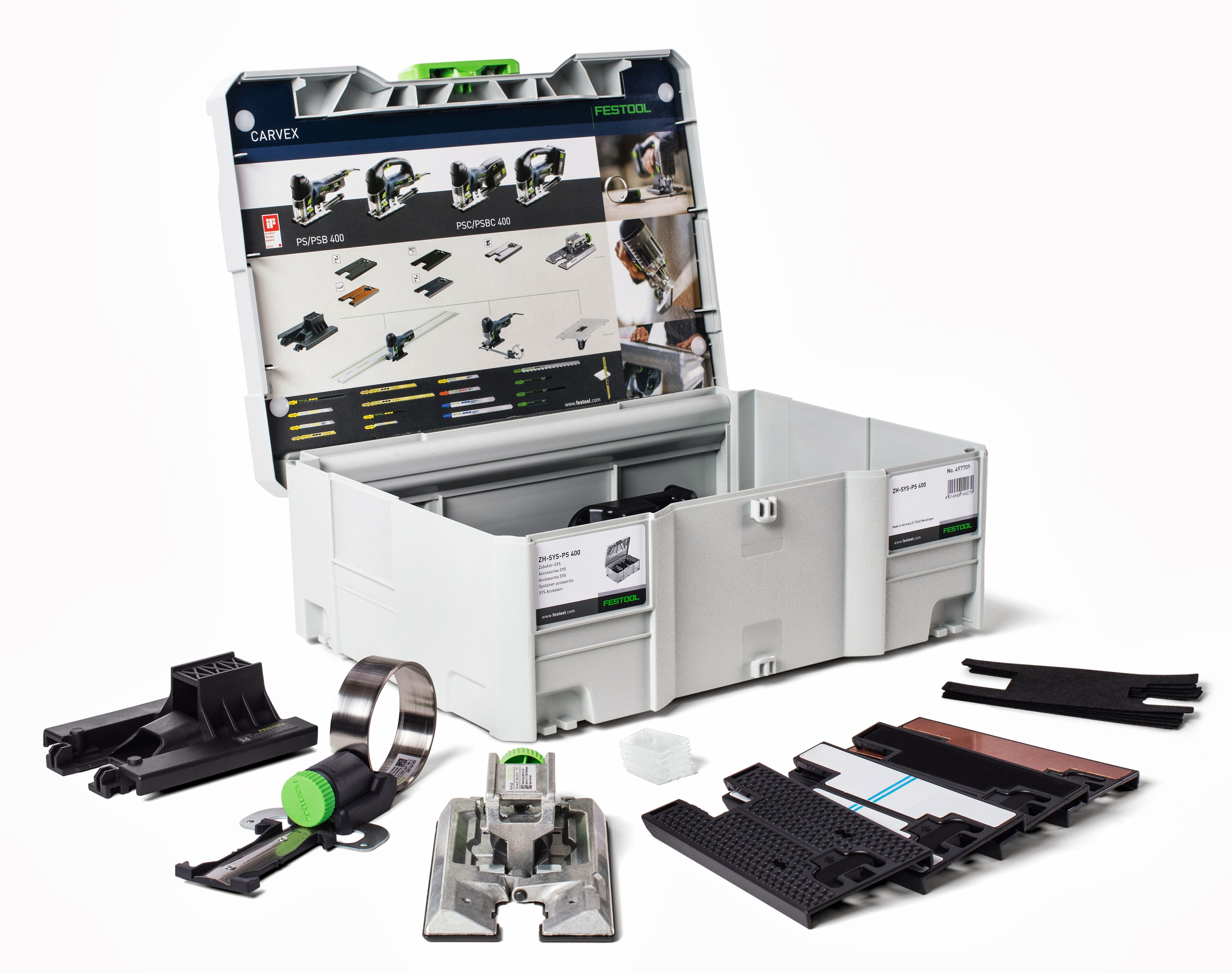 The Ultimate Jigsaw

If you are seeking the perfect jigsaw for clean and precise cuts that you can recreate every time, then the Festool Carvex Jigsaw is the perfect answer for you. Cutting back on time by removing the need to sand or re-cut allows you more time to complete your work and the Festool Dust extractor helps you to save time when the project is over and it's time to clean up. The ergonomic design offers comfort while the precise three way blade guide and consistent speed for cutting makes every project easier to complete, while the smooth startup and various attachments promises the best possible experience. Once again, Festool has created a marvel of engineering.