MFT/3 Multifunction Table Guide
The Festool MFT/3 Multifunction Table: A brilliantly flexible work surface
Woodworking operations as well as assembly work require a stable workbench. Many times, the inability to relocate your workbench to the job site from the workshop has limitations. The MFT/3 multifunction table system offers the most complete solution to this situation because of its versatility. It can be carried to the job site with no trouble due to its foldable legs. Additionally, the MFT/3 makes it easier to create faultless miter, rip, and cross-cuts into wider boards. The MFT/3 is essential, for it is the solution to make beveled and compound cuts as well as splinter free mitered cuts; this is achievable with the guide rail and TS 55 Track Saw or TS 75 plunge cut circular saw. With Festool's MFT multifunction table, perfectly and effortlessly make repeatable cuts of equivalent length. Having the optional guide rail adapter, everything becomes a breeze when making grooves, flutes, dados, profiles, and rabbets with a Festool router in unison with the MFT/3. Perfectly straight angled cuts are easy to attain with the help of guide rail system and the precision miter gauge.
The MFT System is optimized with the aid of quick clamps, screw clamps, and clamping elements. Clamp materials of almost any size or shape are used for sanding, glue ups, or routing. The low profile clamping elements makes securing work for sanding easy and fast. When used alongside the MFT/3, the distinctive design of these clamps enables you to secure oval, round, rectangular, or square pieces to the table while sanding amid open access to the work piece. You should use a steady work surface entirely for all other joining, drilling, and cutting applications.
So many applications
in one easily portable package
Integrated Guide Rail System: Adjustable max has a cutting depth of 3" and can cut materials over 27" wide with unparalleled precision. It also facilitates accurate and repeatable cuts
Interlocking Tables: The Integrated T-Groove side rail facilitates rapid and easy connection of several MFTs especially when you need a bigger work space
Rubber feet: With it, there will be no more dented floors for the MFT's rubber feet shields the floor and provides traction to hinder tangential movement
Angle Unit: it makes accurate angle cuts on common angles. Offers accurate reattachment and is easy to remove
Angle Stop: Stops movement of the angle unit and makes firm the end of fence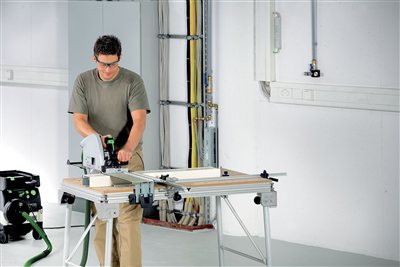 The Ultimate Portable Workstation
never be without your workspace again
It can be transported to the job site effortlessly because of its small size and light weight
Easily portable due to foldable legs
Fold legs when using it for floor level applications and fold out fully for applications at heights of 35-7/16"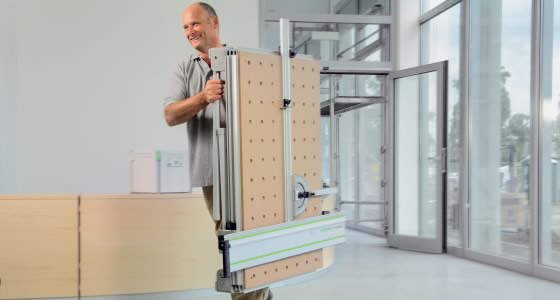 Clamp with Confidence
work has never been easier
Clamping is made easy with the perforated work surface
Integrated side rails facilitate a variety of clamping configurations
Festool clamps uniquely created for use alongside the MFT multifunction table provides optimum protection of your work piece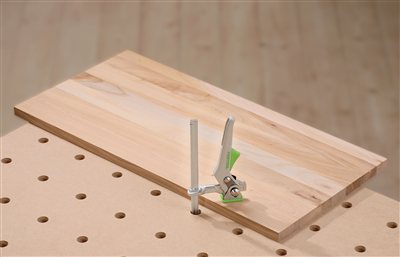 MFT/3 Multi-Function Work Table
the ultimate work station
The bigger MFT/3 is provided in two distinct versions, which are the basic and full. The basic version is simply the bare bones table. The full version consists of a fence rail, guide rail supports, clamp, FS guide rail and an adjustable top. The MFT/3 has a maximized work height of 35-7/16". It is a state-of-the-art work station for all your sanding, routing, clamping, and routing applications
MFT/3 MINI Multi-Function Work Table
smaller, more comfortable work space
Smaller than the MFT/3 and has a smaller work surface. MFT/3 MINI is lower in height compared to the standard version but offers several clamping options just like the standard version. It is intended to offer a more comfortable work surface in support of cutting application and is used specifically with Festool's Kapex sliding compound miter saw.