Festool Routers: Your Route to Success
Festool routers are constructed with premium, top-notch materials making them built not only for precision and accuracy, but to last. From trimming routing laminate to creating heavy cuts in hard maple or other solid surface material, Festool produces an ideal, quality router for every task. With their integrated dust extraction, precision balance, innovative and handy accessories, and unmatched guide rail compatibility (except MFK 700 router), each of these routers offer unparalleled levels of utility. Dust while routing is inevitable, and should be removed during a project to increase visibility. Festool routers are balanced for less vibration, creating less chatter marks and dust, which saves you on valuable clean-up time. Accurate guide rail management incurs less rework and fewer wasted materials. Most woodworkers consider the router to be the most versatile and useful machine in their shops. Festool offers a variety of routing models designed to handle the miscellaneous materials and diverse functions encountered on a daily basis.
MFS Multi-Routing Template
The Festool MFS Multi-Routing Template is specially designed for anybody that has ever needed to create and use complex hand-made templates. The MFS is used world-wide by woodworkers, carpenters, solid surface workers, furniture designers, and cabinetmakers who desire a time-saving alternative to other multi-routing templates. With minimum set up and ease, you can now route with a precise and accurate adjustable template for geometrical figures such as squares, rectangles, or circles, and other challenges such as lines or curves.

The OF 1010
Small in size, big on performance
The OF 1010 EQ Router boasts a 2-1/8" plunge action, permitting accurate sustained control with a rapid, safe plunge lock
Ergonomic handle with full-grip is engineered with the user in mind positioning the power switch and speed control at your fingertips, improving control and diminishing fatigue
MMC electronic controls deliver a constant speed under any load for superior cut quality, step-less variable speed, and overload/thermal protection
Outstanding accuracy with micro-adjustable depth control to 1/256" (1/10 mm) for dial-in routing ability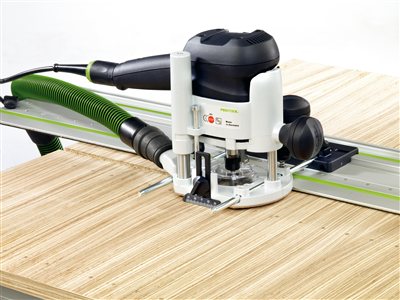 The OF 1400
Festool's most versatile router
Weighing under 10 lbs., this small package still brings the force with 1400 watts of sheer power
Dubbed Festool's most versatile router, the OF 1400 has the combined power and maneuverability to handle any routing job
With category leading cut depth, power, precision, and dust extraction, your routing jobs are simplified with the OF 1400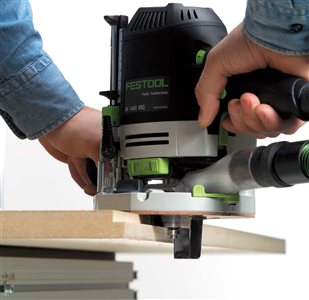 The OF 2200
Powerful and Proficient
As the mightiest Festool router, the OF 2200 EB Router features 2200 watts of power, making large routing tasks easier
Made for heavy duty routing, the OF 2200 is proficient for handling the most challenging jobs
Incredible accuracy with micro-adjustable depth control to 1/256" (1/10 mm) allows you to dial in for precise routing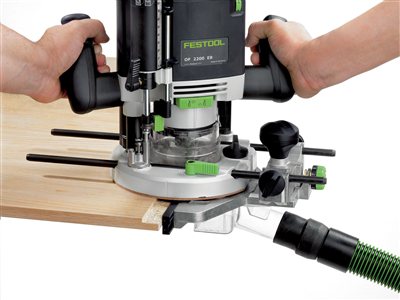 The MFK 7000
Flexibility and Precision
With fine depth adjustments and exceptional dust extraction, the MFK 700 is ideal for all light routing tasks
The modular design makes transforming this router from a vertical position to a horizontal position a simple and easy task
When used with the attachable base feeler bearing, the MFK 700 saves you money by allowing the use of bearing-less bits