Plunge Cut Track Saw Guide
The Festool Plunge Cut Track Saw: Innovation at its Finest
More than 60 years ago, Festool invented a plunge saw with a system of guide-rails. This plunge saw delivers the same precision as stationary and bench tools, such as the table saw, panel saw, or miter box, yet has the portability and flexibility of a conventional circular saw. The guide-rail features a rubber edge which serves as a splinter guard and provides a cut that is smooth, straight, and splinter free. First, adjust your saw along the guide-rail so there is no play, by aligning the two green-colored cams at the saw's base, and then you can trim back your saw's splinter guard matching the first cut of the saw. Thereafter, the splinter guard's edge is the cut line that leads to fast, accurate alignments, and set ups to cut any angle or bevel with ease. With the plunge saw, your cuts start and finish accurately at any point on the material. Greater safety is realized by retracting the saw's blade and riving knife back into its housing, as opposed to typical saws in which the guards retract rather than the blade. Festool always makes your cleanup quicker and easier due to its superior dust extraction feature.
Save Time and Money with the Festool System
You can change out the FastFix blade quickly in just a few steps
You will enjoy a healthier working environment that is nearly free from dust, which cuts clean-up times. When you buy the Festool Dust Extraction System together with a track saw you will save an additional 10 percent
You can now accomplish the work of three saws with the same accuracy, a miter, a radial, and a table saw with just one saw
You will use it longer because its service life is prolonged with triple motor bearings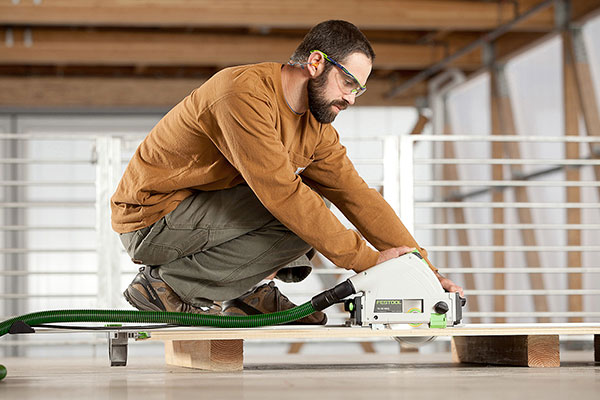 The Beauty of Portable Precision
Smooth, splinter free cuts make every cut glue-ready, saving you time
Accurate cuts are important, particularly when you are using wood that is very expensive and you need a glue-ready, laser-straight cut every time. Glue-ready, precision cuts save you time and effort, as does the dust extraction feature. A Festool TS saw can accomplish all that and more for you.
Precision Cuts – Zero clearance along the guide-rail makes for clean precision cutting in just seconds
No Tears – The splinter guard and guide-rail holds everything in place for no-tear cuts, every time
Depth Modifications – You can set the depth in millimeters to ensure a more accurate cut
Constant Speed – Utilizing MMC soft start technology, the blade makes a clean, smooth cut even under a heavy load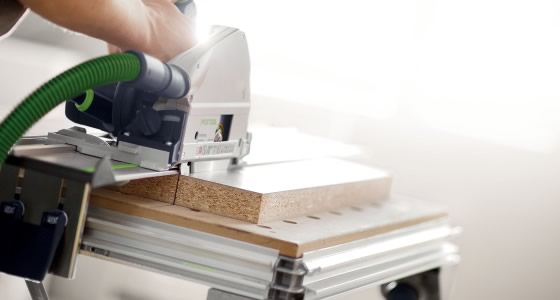 The TS 55 REQ
Big power - Small Size
The TS 55 processes sheets with precision and speed for your case work. Accurately and efficiently prepare, crosscut, or true solid wood stocks. For a perfect result of cut-outs, onsite paneling, or new floor installations or repairs, look no further than your handy TS 55. Offering a with rail 1-15/16" (50 mm) cutting capacity at 90 degrees or 1-7/16" (37 mm) at 45 degrees, the TS 55 makes flawless angles and at less than 10 pounds, it is easy to handle with a dependable 10-amp motor. When you pair it with an MFT/3 Table, and bought as a set, this saw equals or exceeds the capabilities and accuracy of essentially every miter or table saw available at a 10 percent savings.
The TS 75 EQ
with a stronger motor, slip clutch, and bigger cutting capacity
When you need larger cutting capacities due to heavier formats, the TS 75 is the superior choice. Stacking multiple panels, cutting thicker, harder woods, such as solid core doors and solid surfaces, the TS 75 offers you the 2-3/4" (70 mm) 90-degree cut, or a 2-1/8" (55 mm) 45-degree cut, with the rail. Its 13-amp motor affords more power, yet weighs only 13.6 pounds.