Interchangeable Base System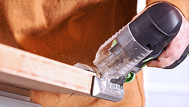 The interchangeable base system allows you to easily change the base according to specific applications, making the Carvex jigsaw even more efficient when cutting different materials. Use the base release lever to switch bases in seconds. The special angle base adjusts to up to +/- 45 degrees for cutting inside and outside of corners.
FastFix Blade Chuck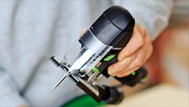 The Carvex's tool-free chuck allows for easy blade changes. A release trigger on the side ejects the blade so there's no need to handle a hot blade. A quick insert and twist of the blade locks the blade into the chuck.
Brushless Motor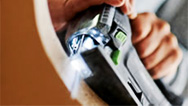 Thanks to brushless motor technology, the Carvex jigsaw is more efficient, reliable, quieter and lasts longer than other cordless models in the same class. Brushless motors reduce heat and friction allowing more energy for work, more efficient use of battery power and less wear on the motor.
Stroke Adjustment
The stroke adjustment knob allows even more precision control of your tool and your work piece. The Carvex jigsaw offers four stroke setting modes. Choose from a straight cutting action for fine cuts to an orbital cutting action for more aggressive cuts. With a maximum of 3,800 strokes per minute, the Carvex can make quick work of a variety of materials.