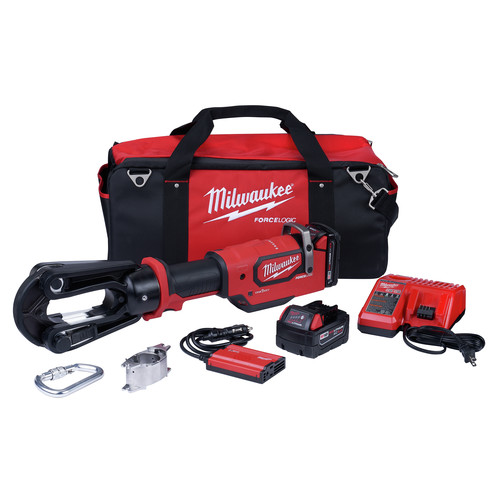 Want an email when this item is in stock?
OUT OF STOCK
Product Features & specs :
Milwaukee 2879-22 M18 FORCE LOGIC 18V 15 Ton Crimper Kit
Details
The M18 FORCE LOGIC 15T Crimper is the Easiest Way to Crimp. Designed to reduce peak muscle effort, the unique in-line design and center-balanced grip enables use with one hand. Being the lightest 15T crimper along with a 350-degree rotating head provides the easiest alignment. This crimper is fully compatible with all industry standard P-Dies and P-to-U Die Adapters, enabling users to utilize existing dies. The Quick Release and Push-to-Close pin design provides easy access around splices and in crowded environments. Predictive Force Monitoring (PFM) constantly measures force output to deliver the fastest crimp speed while delivering accurate pressure with instant verification every time. Delivering up to 90 crimps per charge on an XC5.0 battery provides the user complete confidence to complete any job. The crimper creates UL Classified crimps under UL 486a-b from #8 - 750 MCM Cu and Dual Rated Lugs and Splices Across Several Leading Manufacturers when used with the corresponding Milwaukee dies. With Milwaukee ONE-KEY Technology, Milwaukee Crimpers enable you to store real time crimp data, generate professional reports, view historical tool performance data and sync it all wirelessly to the cloud for easy access. Featuring a POWERSTATE Brushless Motor, REDLINK Electronics and REDLITHIUM Batteries results in Unmatched Reliability in the toughest conditions.
Features:
PFM (Predictive Force Monitoring) with Auto Complete Ensures Full Pressure
Compatible with All Industry Standard P-Dies and U-Dies with P-to-U Die Adapter
In-Line Design & 350-degree Rotating Head for Easy Access in Tight Spaces
Quick Release and Push-to-Close Pin Design Provides Easy Access Around Splices
Up to 90 Crimps per Charge on a M18 RedLithium XC5.0 Battery on 1000 MCM Al
Pre-Crimp Battery Check Automatically Ensures Enough Charge to Complete Each Crimp
Instant Verification of Successful Cycle with Green LED
Records & Stores Every Crimp Made for Professional Report Building through ONE KEY
Creates UL Classified crimps under UL 486a-b from #8 - 750 MCM Cu and Dual Rated Lugs and Splices Across Several Leading Manufacturers when used with corresponding Milwaukee dies
Longer Life with POWERSTATE Brushless Motor & Weather Protected Electronics that Keep Dirt, Dust & Moisture Out
What's Included:
M18 FORCE LOGIC 15T Crimper - 2879-20
M18 REDLITHIUM XC5.0 Battery - 48-11-1850
M18 REDLITHIUM CP2.0 Battery - 48-11-1820
M18 and M12 Multi-Voltage Charger - 48-59-1812
Inverter
P-to-U Die Adapter
Carabineer
Contractor bag