Powering the Electrical Trades
Milwaukee Tool is committed to offering a full line of professional electrician's tools for every day and task-specific use on the job site. Cordless knockout tools, cable crimpers, and cutters deliver a new level of ease and durability to labor-intensive tasks and are powered by the MILWAUKEE® M18™ battery system. A robust line of additional power and hand tools, including cordless band saws and electrical testers, and wiring tools ensure the job gets done every time. Milwaukee Tool provides the best and most robust lineup of power tools, hand tools, and toolsets for professional electricians and installers.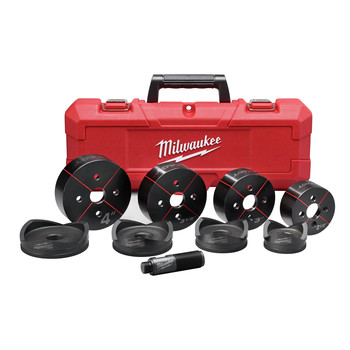 EXACT 2-1/2 - 4 in. 9pc. Knockout Set
Knockout
Each product within the Milwaukee Knockout System was built upon the principles of reducing the tedious steps of hole making, improving the speed of the process, and limiting the fatigue of the user. The M18 FORCE LOGIC™ 6 Ton Knockout Tool punches up to 4" holes in 14 gauge mild steel, making it ideal for service applications, while the M18 FORCE LOGIC™ 10 Ton Knockout Tool punches up to 4" holes in 12 gauge stainless steel, making it ideal for new commercial and industrial construction. The Quick Connect Alignment System delivers easy set-up without the tool, and speeds up repetitive punching. EXACT™ punches and dies are rated for both mild and stainless steel punching. Plus, EXACT™ dies have both engraved crosshairs for accurate alignment, and slug removal ports for optimal slug removal.
Crimping & Cutting
Milwaukee® Utility and Commercial Crimpers are the most accurate, fastest and most durable crimpers in the world. FORCE LOGIC™ is engineered to not only improve upon, but fundamentally change the way high-force tools are used in the field. Through thoughtful design focused on workflow, each tool simplifies a complicated process to deliver the best user experience of its kind. Milwaukee® ONE KEY™ Technology enables you to store real time crimp data, generate professional reports, view historical tool performance data and sync it all wirelessly to the cloud for easy access.
More Electrical Solutions
Popular Electrical Solutions