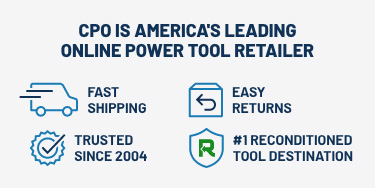 Founded in 1963, Tyler Tool has been known for service, quality and integrity in business. Millions of Tyler Tool's professional to DIY (Do-It-Yourself) customers can now look to CPO Outlets to continue it's tradition of offering a wide selection of leading brands, great prices, and outstanding no-hassle customer service. With same-day shipping and large network of distribution centers across the United States supporting 1 - 2 day shipping to the majority of the country, CPO strives to do our part to help make your project a success.
Frequently Asked Questions
I ordered something from Tyler Tool. Where can I get help or process a return?

CPO Outlets' customer care team is here to help. Please email us using the Contact Form or by Phone at 1-866-577-3014.

Will I receive emails from CPO Outlets?

Yes, similar to the Tyler Tool emails and newsletters you've received in the past, you will soon begin receiving CPO's best deals and email offers. Be sure to add us to your address book so you don't miss out on exclusive savings!

Do I need to create a new account on CPO Outlets?

No, you can sign in with your existing login credentials and enjoy shopping immediately.

Can I view previous Tyler Tool orders in my new CPO Outlets account?

All order history will be available within your new CPO Outlets account. Need to track a recent order? Use the Order Tracking tool or contact our Customer Care team at 866-577-3014.

Will the same products sold on Tyler Tool now be available for purchase on CPO Outlets?

Yes, all the same great products will be available on CPO Outlets.

Why is the Tyler Tool website no longer available?

We are confident we can provide all the same great brands, products, fast shipping and customer service on one dedicated website - CPO Outlets.

Will I still have access to the same special promotions and discounts on CPO Outlets as a customer?

Yes, we will still provide great pricing, promotions and exclusive customer specials on CPO Outlets.
Bestselling Power Tools & Outdoor Power Equipment
Featured Savings on Top Tools
CPO Outlets is the #1 Destination for Certified Refurbished Power Tools