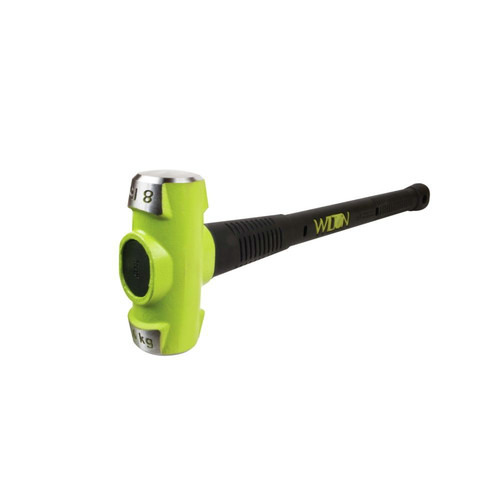 We're sorry, but this item is no longer available.
Product Features & specs :
Wilton 20830 BASH 128 oz. Sledge Hammer with 30 in. Unbreakable Handle
Details
At Wilton, we are on a never-ending journey to create the highest quality, most indestructible tools on the market. On this journey we've managed to design and file patents for the world's most durable sledge hammer with Unbreakable Handle Technology, revolutionary design, and engineered no-slip rubber grip. With the Wilton B.A.S.H backed by our 1000 Dollar Guarantee, we put our money where our mouth is.
Features:
Unbreakable technology provided by the steel core handle, which eliminates breaking during overstrikes

Hi-Vis Head made with drop forged 46 HRC steel endures the most demanding applications

Safety plate secures head to handle preventing the head from becoming dislodged

Anti-Vibe neck is thick and tapered to absorb vibration, reducing worker fatigue

No-Slip Grip vulcanized rubber handle delivers a secure grip while striking

Lanyard hole to safely secure the hammer to your wrist or a stationary object

Conveniently designed to stand upright for easy reach
What's Included:
B.A.S.H 8 lbs. Head 30 in. Handle Sledgehammer w/ 30 in Unbreakable Handle - 20830
Warranty: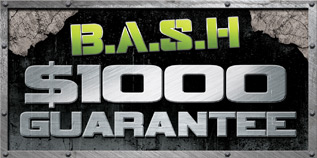 B.A.S.H $1000 Guarantee
Walter Meier Manufacturing Americas will pay you $1,000 in cash if the handle of a BASH sledge hammer you own breaks during normal use within two years after the date of purchase. This payment is in lieu of any other remedy for a product defect you may have, including breach of any other express or implied warranties. The BASH $1,00 Guarantee does not apply to breakage that results from use of the sledge hammer other than as a hand-held striking tool, nor to defects involving the hammer head, including but not limited to, separation of the head from the handle. The BASH $1,000 Guarantee will apply only to products purchased through December 31, 2013.
HOW TO MAKE A CLAIM
The sledge hammer must be returned for examination, postage prepaid, to a location designated by Wilton. For the name of the location nearest you, please call 1-800-274-6848. You must provide proof of initial purchase date, and an explanation of how the handle broke must accompany the merchandise. If Wilton determines you are covered by the BASH $1,000 Guarantee, Wilton will send you $1,000. If their inspection discloses a defect but your are not covered by the BASH $1,000 Guarantee, they will repair or replace the product, or refund the purchase price, at their opinion, in accordance with their standard limited warranty on striking tools. For terms of Wilton's standard limited warranty, see www.wiltontools.com/us/manufacturing/en/wilton/service_support/warranty.html