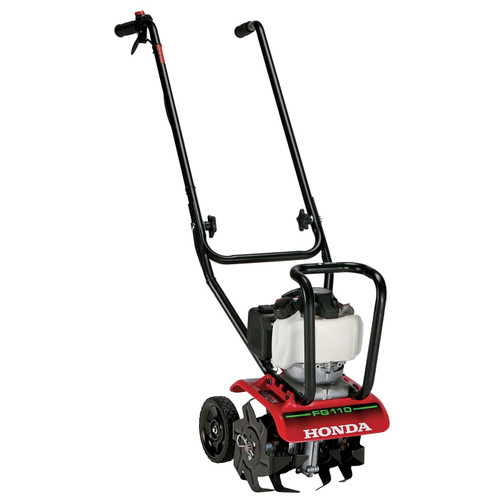 Honda FG110 25cc 9 in. Front Tine Tiller
Honda Model:

hndn649680
Free shipping on this item! No Minimum! See Details
See More
See Less
FREE shipping on orders $149+
CA Residents
Prop 65 Warning
WARNING: This product can expose you to chemicals including Soots, tars, and mineral oils, a chemical known to the State of California to cause Cancer and Carbon monoxide, a chemical known to the State of California to cause Birth Defect/Reproductive Harm. For more information go to www.P65Warnings.ca.gov.
Product Features & specs :
Honda FG110 25cc 9 in. Front Tine Tiller
Details
Honda's FG110 Tiller delivers the power, dependability and performance needed to get the job done right. Featuring a wide tilling width of 9 in. ideal for smaller paths and tilling jobs, the FG110 features handle mounted controls for easy operation with three adjustable heights to offer comfortable use for anyone.
Features:
Powerful and fuel efficient Honda commercial-grade OHV engine

Superior performance in a variety of applications from breaking new soil to cultivating soft soil

Ideal for tighter spots and planters with a 9 in. tilling width

Adjustable depth bar makes it simple to control the speed and depth of the tines

Transport wheels make it easy to maneuver through rough terrain

Lightweight and compact design offers easy storage solutions and fast transportation
What's Included:
25cc 9 in. Front Tine Tiller - 649680
Warranty:
Honda Power Equipment Warranty
This warranty is limited to the following Honda Power Equipment products when distributed by American Honda Motor Co., Inc., Power Equipment Division, 4900 Marconi Drive, Alpharetta, Georgia 30005. The following warranty applies to products purchased at retail or placed in rental service on or after January 1, 2010. Applies to product from January 2010 through present.
PRODUCTS COVERED BY THIS WARRANTY
PRIVATE RESIDENTIAL
COMMERCIAL/RENTAL/INSTITUTIONAL
Hand-Held Products
HHT Series (Limited lifetime warranty on the HHT drive cable(2))
24 months
12 months
Walk Behind Mowers
HRS and HRR Series
36 months
3 months
HRX Series (Limited lifetime warranty on the HRX mower deck(3))
60 months
3 months
HRC Series
24 months
24 months engine, 12 months other components
Tillers
FG110 and F220 Series (Limited lifetime warranty on the FG110K1for tine breakage (3))
24 months
12 months
Tillers (GX engine powered, except as listed above)
36 months
36 months
Snow Throwers, Snow Blowers
HS520 and HS720 Series
24 months
3 months
Snow Throwers, Snow Blowers (all others except as listed above)
36 months
36 months
Water Pumps
WX10 and WX15 Series
24 months
12 months
Gasoline engine powered pumps (all others except as listed above)
36 months
36 months
Electric submersible pumps
12 months
12 months
Generators
EU1000i
24 months
12 months
Generators (all others except as listed above)
36 months
36 months
(1) Length of Warranty: Batteries supplied with applicable products as standard, original equipment are covered by this warranty for a period of 12 months (private residential) or 3 months (commercial/rental/institutional use) from the date of original retail product purchase.
(2) Limited lifetime warranty (HHT drive cable) is valid for the original purchaser only
(3) Limited lifetime warranties (FG110K1 tines, HRX217 mower deck) are valid for the original purchaser for private residential use only
(4) Private residential: Used in maintaining owner's primary and/or secondary residence. Any other use, including but not limited to informal "for hire" use, is considered commercial/rental/institutional use.
To Qualify for This Warranty:
The product must be purchased in the United States, Puerto Rico, or the U.S. Virgin Islands from American Honda or a dealer authorized by American Honda to sell those products. This warranty applies to first retail purchaser and each subsequent owner during the applicable warranty time period, unless noted otherwise.
What American Honda Will Repair or Replace Under Warranty:
American Honda will repair or replace, at its option, any part that is proven to be defective in material or workmanship under normal use during the applicable warranty time period. Warranty repairs and replacements will be made without charge for parts or labor. Anything replaced under warranty becomes the property of American Honda Motor Company, Inc. All parts replaced under warranty will be considered as part of the original product, and any warranty on those parts will expire coincident with the original product warranty
To Obtain Warranty Service:
You must, at your expense, take the Honda Power Equipment product, accessory, replacement part, apparel, or the power equipment on which the accessory or replacement part is installed, and proof of purchase to any Honda Power Equipment dealer in the United States, Puerto Rico, or the U.S. Virgin Islands who is authorized to sell and/or service that product, during the dealer's normal business hours. To locate a dealer near you, visit our web site at http://PowerEquipment.Honda.com and click on Find a Dealer. If you are unable to obtain warranty service or are dissatisfied with the warranty service you receive, contact the owner of the dealership involved; normally this will resolve the problem. However, if you should require further assistance, write or call the Power Equipment Customer Relations Department of American Honda Motor Co., Inc. at the following address: American Honda Motor Co., Inc. Power Equipment Customer Relations Dept. 4900 Marconi Drive Alpharetta, GA 30005-8847 Telephone: (770) 497-6400
Exclusions:
1. Any damage or deterioration resulting from the following:
- Neglect of the periodic maintenance as specified in the product owner's manual
- Improper repair or maintenance
- Operating methods other than those indicated in the product owner's manual
- The use of non-genuine Honda parts, accessories, lubricants, and fluids other than those approved by Honda
- Exposure of the product to soot and smoke, chemical agents, bird droppings, sea water, sea breeze, salt, or other environmental phenomena
- Collision, fuel contamination or deterioration, neglect, unauthorized alteration, misuse, incorporation or use of unsuitable attachments or parts
- Normal wear and tear (including, but not limited to, normal fading of painted or plated surfaces, sheet peeling, and other natural deterioration)
2. Consumable parts: Honda does not warrant parts deterioration due to normal wear and tear. The following parts are not covered by this warranty unless they are needed during another repair covered under this warranty: spark plug, fuel filter, air cleaner element, clutch disc, tire, wheel bearing, recoil starter rope, cable, belt, cutter blade, oil, and grease.
3. Cleaning, adjustment, and normal periodic maintenance work (carburetor cleaning, engine oil draining, blade sharpening, belt and cable adjustments).
4. Any product that has ever been declared a total loss or sold for salvage by a financial institution or insurer
5. Auger and paddle assemblies of snow throwers, tiller tines of roto-tillers, and mower blades and mower deck housings are specifically not warranted against impact damage including, but not limited to, abrasive damage.
Disclaimer of Consequential Damage and Limitation of Implied Warranties:
American Honda disclaims any responsibility for loss of time or use of the product, transportation, commercial loss, or any other incidental or consequential damage. Any implied warranties are limited to the duration of this written limited warranty. Some states do not allow limitations on how long an implied warranty lasts and/or do not allow the exclusion or limitation of incidental or consequential damages, therefore the above exclusions and limitations may not apply to you. This warranty gives you specific legal rights, and you may also have other rights, which vary from state to state.