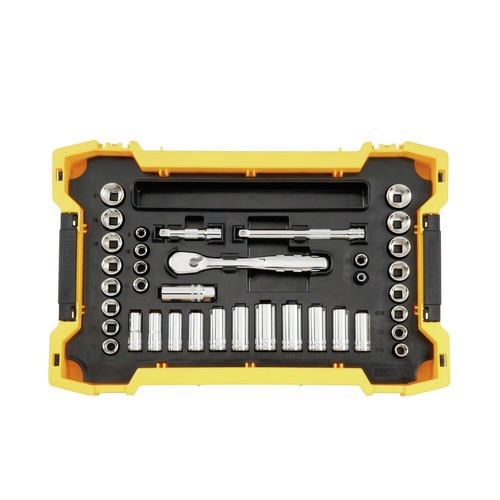 Dewalt DWMT45400 37-Piece 3/8 in. Drive Socket Set with Tough System 2.0 Shallow Tool Tray and Lid
Dewalt Model:

dewndwmt45400
Save $20 off $175 | $30 of $225 | $40 off $275! Use Code: YELLOW40 See Details
See More
See Less
FREE shipping on orders $149+
Dewalt DWMT45400 37-Piece 3/8 in. Drive Socket Set with Tough System 2.0 Shallow Tool Tray and Lid
Dewalt Model:

dewndwmt45400
Product Features & specs :
Dewalt DWMT45400 37-Piece 3/8 in. Drive Socket Set with Tough System 2.0 Shallow Tool Tray and Lid
Details
This (37-Piece) Socket and Ratchet Set includes a wide selection of sockets and socket accessories to help complete a variety of tasks. The set is sold inside the TOUGHSYSTEM 2.0 Shallow Tool Tray along with a molded insert and compatible lid for optimal storage and transportation. This set includes a durable 72-Tooth ratchet with 5 Degree Arc swing for maneuverability in restricted areas. Full-polish chrome provides corrosion resistance and gives these tools a classic look.
Features:
TOUGHSYSTEM 2.0 Shallow Tool Tray

Anti-slip driver handle provides maximum comfort

Full-polish chrome for corrosion resistance

Clear identification on sockets with hard stamped markings
What's Included:
(1) 3/8 in. Drive Sockets - Metric 8

(1) 3/8 in. Drive Sockets - Metric 10

(1) 3/8 in. Drive Sockets - Metric 11

(1) 3/8 in. Drive Sockets - Metric 12

(1) 3/8 in. Drive Sockets - Metric 13

(1) 3/8 in. Drive Sockets - Metric 14

(1) 3/8 in. Drive Sockets - Metric 15

(1) 3/8 in. Drive Sockets - Metric 16

(1) 3/8 in. Drive Sockets - Metric 17

(1) 3/8 in. Drive Sockets - Metric 18

(1) 3/8 in. Drive Sockets - Metric 19

(1) 3/8 in. Drive Sockets - Metric 21

(1) 3/8 in. Drive Sockets - SAE 1/4

(1) 3/8 in. Drive Sockets - SAE 3/8

(1) 3/8 in. Drive Sockets - SAE 7/16

(1) 3/8 in. Drive Sockets - SAE 1/2

(1) 3/8 in. Drive Sockets - SAE 9/16

(1) 3/8 in. Drive Sockets - SAE 5/8

(1) 3/8 in. Drive Sockets - SAE 11/16

(1) 3/8 in. Drive Sockets - SAE 3/4

(1) 3/8 in. Drive Sockets - SAE 13/16

(1) 3/8 in. Drive Sockets - SAE 7/8

(1) 3/8 in. Deep Sockets Drive - Metric 10

(1) 3/8 in. Deep Sockets Drive - Metric 11

(1) 3/8 in. Deep Sockets Drive - Metric 12

(1) 3/8 in. Deep Sockets Drive - Metric 13

(1) 3/8 in. Deep Sockets Drive - Metric 14

(1) 3/8 in. Deep Sockets Drive - Metric 15

(1) 3/8 in. Deep Sockets Drive - Metric 19

(1) 3/8 in. Deep Sockets Drive - SAE 1/2

(1) 3/8 in. Deep Sockets Drive - SAE 9/16

(1) 3/8 in. Deep Sockets Drive - SAE 5/8

(1) 3/8 in. Deep Sockets Drive - SAE 11/16

(1) 3/8 in. Spark Plug Socket Drive - SAE 5/18 in.

(1) 3/8 in. Extension Bar Drive 3 in.

(1) 3/8 in. Extension Bar Drive 6 in.

(1) 3/8 in. 72-Tooth Ratchet Drive