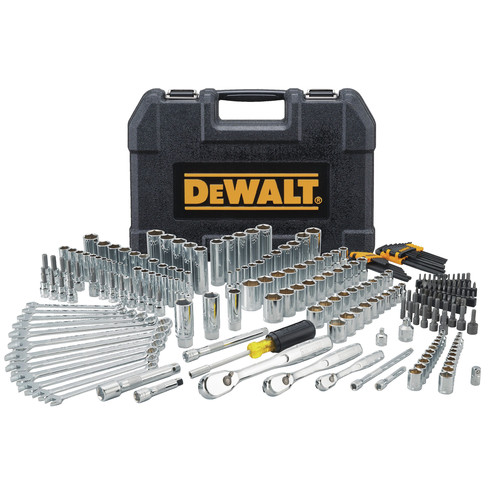 Dewalt DWMT81535 247-Piece Mechanic's Tool Set
Dewalt Model:

dewndwmt81535
This item qualifies for
FREE SHIPPING
Product Features & specs :

Better Than Ever
247 Piece Mechanics Tool Set with new shapes and sizes is ready for any job

Dewalt Guaranteed Tough
Dewalt designs and optimizes professional workhorse solutions – tools, accessories and service – to ensure confidence for the toughest jobsite conditions
Dewalt DWMT81535 247-Piece Mechanic's Tool Set
Details
This 247-Piece Mechanics Tool Set includes ratchets and sockets, a bit driver with specialty and nut bits, combination wrenches, and hex keys to handle almost any mechanical job under the hood or anywhere else. A durable blow molded case featuring metal latches provides organization and easy storage for travel. 72-tooth ratchets with quick-release button are built to work hard. Full-polish chrome makes these tools look great and provides corrosion resistance.
Features:
72-tooth ratchets, ideal for high torque ratcheting
Vinyl, anti-slip bit driver handle provides maximum comfort
Durable blow molded case with metal latches provides protection and storage for your tools
Full-polish chrome for corrosion resistance
What's Included:
Ratchets: 1/4 in., 3/8 in. & 1/2 in. Drive Pear Head Ratchet
1/4 in. Drive 6-Point Sockets: (SAE) - 5/32 in., 3/16 in., 7/32 in., 1/4 in., 9/32 in., 5/16 in., 11/32 in., 3/8 in., 7/16 in., 1/2 in., 9/16 in. (MM) - 4mm, 5mm, 6mm, 7mm, 8mm, 9mm, 10mm, 11mm, 12mm, 13mm, 14mm
1/4 in. Drive 6-Point Deep Sockets: (SAE) - 5/32 in., 3/16 in., 1/4 in., 9/32 in., 5/16 in., 11/32 in., 3/8 in., 7/16 in., 1/2 in. (MM) - 4mm, 5mm, 6mm, 7mm, 8mm, 9mm, 10mm, 11mm, 12mm, 13mm, 14mm
3/8 in. Drive 6-Point Sockets: (SAE) - 1/4 in., 5/16 in., 3/8 in., 7/16 in., 1/2 in., 9/16 in., 5/8 in., 11/16 in., 3/4 in., 13/16 in., 7/8 in. (MM) - 10mm, 11mm, 12mm,13mm, 14mm, 15mm, 16mm, 17mm, 18mm, 19mm, 21mm
3/8 in. Drive 6-Point Deep Sockets: (SAE) - 1/4 in., 5/16 in., 3/8 in., 7/16 in., 1/2 in., 9/16 in., 5/8 in., 11/16 in., 3/4 in., 13/16 in., 7/8 in. (MM) - 10mm, 11mm, 12mm,13mm, 14mm, 15mm, 16mm, 17mm, 18mm, 19mm, 21mm
3/8 in. Drive Bit Sockets: Hex (SAE) - 5/32 in., 3/16 in.,1/4 in., 5/16 in. Hex (MM) - 4mm, 5mm, 6mm, 7mm, 8mm Torx - # 10, 15, 20, 25, 27, 30, 40, 45
1/2 in. Drive 6-Point Sockets: (SAE) - 7/16 in., 1/2 in., 9/16 in., 5/8 in., 11/16 in., 3/4 in., 13/16 in., 7/8 in., 15/16 in., 1 in. (MM) – 13mm, 14mm, 15mm, 16mm, 17mm, 18mm, 19mm, 21mm, 22mm, 24mm
1/2 in. Drive 6-Point Deep Sockets: (SAE) - 11/16 in., 3/4 in., 13/16 in., 7/8 in., 15/16 in. (MM) - 17mm, 18mm, 19mm, 21mm, 22mm
Combination Wrenches: (SAE) - 11/32 in., 3/8 in., 7/16 in., 1/2 in., 9/16 in., 5/8 in. (MM) - 10mm, 11mm, 13mm, 14mm, 15mm, 16mm
Accessories: 1/4 in. Drive 3 in. & 6 in. Extension Bars, 1/4 in. Drive Female to 3/8 in. Drive Male Adapter 3/8 in. Drive 3 in. & 6 in. Extension Bars, 3/8 in. Drive 5/8 in., 3/4 in. & 13/16 in. Spark Plug Sockets 3/8 in. Drive Female to 1/4 in. Drive Male Adapter 1/2 in. Drive 5 in. Extension Bars, 1/2 in. Drive Female to 3/8 in. Drive Male Adapter
Nut Bits: (SAE) - 5/32 in., 3/16 in., 7/32 in., 1/4 in., 9/32 in., 5/16 in., 11/32 in., 3/8 in., 7/16 in. (MM) - 4mm, 5mm, 6mm, 7mm, 8mm, 10mm
Specialty Bits / Driver / Adapter: 28 Hex Keys, 44 Specialty Bits, 1 Bit Driver