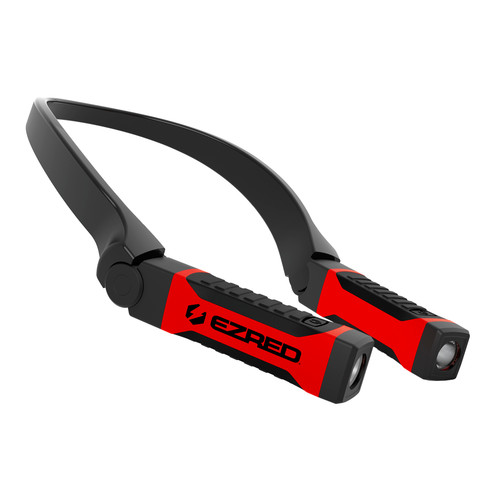 Enter your email address and we'll let you know when it's available
OUT OF STOCK
Product Features & specs :
EZ Red NK10 ANYWEAR Neck Light
Details
For mechanics looking for a reliable bright light, EZRED'S ANYWEAR Neck Light offers the first revolutionary, wearable design that can be worn comfortably on your neck all day long. Proudly designed in the United States, this first-to-market design is unlike anything you have seen before. Boasting a bright 200 lumens with the ability to articulate the beam up to 70 Degrees, the ANYWEAR Neck Light is perfect for working in both close quarters and long distance applications. Aim the beams in different directions to offer a wider range of light or point them down to focus on your work area. Unlike a traditional headlamp, you can use this light without accidentally blinding bystanders. EZRED's ergonomic, flexible design is universal to fit all necks comfortably without the need to make adjustments to a headband strap. Powered by (2) AA batteries and two separate switches, the light can run up to 5 hours per side. Easily replace the batteries in seconds with a quick and simple turn.
The weight of a traditional headlamp causes stress to your head and the band leaves your forehead and hair dirty, so when it comes to a greasy garage you need a light that you can wear comfortably all day no matter the conditions. Unlike a headlamp, the ANYWEAR Neck Light's unobtrusive sporty design leaves your head free to wear a hat or a helmet. Constructed from a durable ABS NYLON blend, this light will not leave sweat marks and can be easily wiped cleaned versus a traditional fabric band headlamp. With an IPX4-certified rating, this light is all-weather ready. You can feel secure using it in the rain or snow.
Features:
Wear on your neck for hands-free use

Direct light effectively. Simply position the articulating light heads, to accurately direct the light beam to the precise angle needed.

Sleek design is more attractive and comfortable than conventional headlamps

2 AA batteries included

Patent Pending

HANDS-FREE / HASSLE FREE: Innovative wearable design leaves you hands-free to work comfortably without irritation or stress to your forehead. This light rests on your neck without leaving sweat marks and can be easily cleaned

FOUR MODES FOR INFINITE USE: Whether you prefer the lowest setting (100 lumens) or a higher setting (200 lumens), this light adjusts to your power needs. Articulate the beams up to 70 degrees to create a wider beam

STYLISH AND COMFORTABLE: With its sporty design, this innovative light can be worn anywhere. Keep your hands free while working in the garage or on a project in the house. Have one ready to walk the dog or for when the power goes out. Stock up to take the family camping in safety. You will never run out of applications this light is perfect for

WATER-RESISTANT AND RUGGED FOR OUTDOOR USE: This light is IPX4-rated which means you can be sure your light stays on even when you are soaking in the rain. Made of a durable ABS NYLON blend you can trust
What's Included:
ANYWEAR Neck Light - NK10