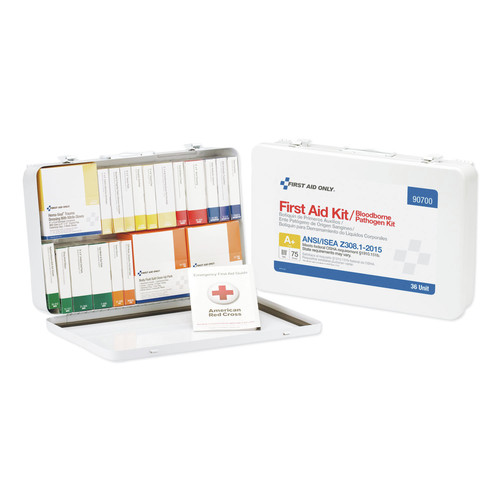 First Aid Only 90700 75 Person Unitized ANSI Class A Weatherproof First Aid Kit with BBP Pack
First Aid Only Model:

faon90700
Enter your email address and we'll let you know when it's available
OUT OF STOCK
First Aid Only 90700 75 Person Unitized ANSI Class A Weatherproof First Aid Kit with BBP Pack
First Aid Only Model:

faon90700
Product Features & specs :
First Aid Only 90700 75 Person Unitized ANSI Class A Weatherproof First Aid Kit with BBP Pack
Details
36 Unit 75 Person ANSI A+ First Aid Kit with a Bloodborne Pathogen pack contains 146 pieces to treat minor injuries. The kit contents meet both ANSI and OSHA standards and are sufficient to treat up to 75 people. The metal, weatherproof storage case has two latches to keep the case closed and a handle to facilitate transportation to the site of an injury. The case also includes tabs for mounting the case on a wall or other flat vertical surface. The kit is ideal for offices, vehicles or worksites.
Features:
Convenient kit for efficient care

The case features a gasket and an easy-to-carry handle

Wall mountable for quick access in an emergency

Contents fit snugly to prevent shifting, and single-use packaging ensures that products do not become contaminated

Designed to hold all 18 ANSI required items

A list of contents can be permanently affixed inside the lid for easy restocking
What's Included:
CPR Face Shield

Scissors

1/2 in. x 5 yd. First Aid Tape

First Air Guide

(10-Pc.) 0.9 g Hand Sanitizer Packets

(16-Pc.) 1 in. x 3 in. Adhesive Fabric Bandages

(5-Pc.) Fingertip Fabric Bandages

(4-Pc.) Knuckle Fabric Bandages

(12-pc.) 0.5 g Triple Antibiotic Ointment Packets

(10-Pc.) BZK Antiseptic Towelettes

(12-Pc.) 0.9 g First Aid/Burn Cream Packets

4 in. x 4 in. Burn Dressing

(12-Pc.) Hydrocortisone Anti-itch Cream Packets

(10-Pc.) Sting Relief Wipes

Hema-Seal 8 in. x 10 in. Trauma Pad

4 in. x 4 yd. Gauze

(6-Pc.) Nitrile Exam Gloves

4 in. x 5 in. Cold Pack

(21-Pc.) Body Fluid Spill Clean-up Packs)

(10-Pc.) BBP Personal Protection Packs

(4-Pc.) 3 in. x 3 in. Sterile Gauze Pads

40 in. x 40 in. x 56 in. Triangular Bandage

1 oz. Eyewash

(2-Pc.) Eye Pads and Strips

5 in. x 9 in. Trauma Pad

(2-Pc.) 2 in. Conforming Gauze Rolls

Kit Box
(1) Fabric Bandages, 1" x 3", 16ct, (1) 1 First Aid Tape, 1 CPR Mask, 1 Scissors, (1) Triple Antibiotic Ointment Packets, 12ct, (1) BZK Antiseptic Towelettes, 10ct, (1) Burn Dressing, 4" x 4", (1) First Aid/Burn Cream Packets, 0.9g, 12ct, (1) Cold Compress, 4" x 5", (1) 1 Eyewash, 1oz, with 2 Eye Pads and 2 Strips, (1) Hand Sanitizer Packets, 0.9g, 10ct, (1) Nitrile Exam Gloves, 4 ct., (1) Conforming Gauze Roll, 2", 2ct, (1) Gauze Dressing Pads, 3" x 3", 4ct, (1) Trauma Pad, 5" x 9", 1/box, (1) Triangular Sling/Bandage, 40" x 40" x 56", (1) First Aid Guide, (1) Knuckle & Fingertip Fabric Adhesive Bandages, 9ct, (1) Hydrocortizone Anti-Itch Cream Packets, 12ct, (1) Sting Relief Wipes, 10ct, (1) Hema-seal 4" Major wound compress, (1) Body Fluid Spill Clean-Up Pack (20 pcs), (1) BBP Personal Protection Pack (7 pcs)