TOOLS TO HANDLE ANY PROJECT
- We have you covered.
FLEX TOOLS -
Don't miss out on these top performers.
FLEX - Das Original
Innovation, Robustness and First-Class Quality:
These characteristics combine craftsmen and users with FLEX tools. The traditional company based in Germany has stood for high-quality power tools since 1922 offering a broad product range. To FLEX, safety, ergonomics and quality are first priority.
POPULAR FLEX ITEMS
Popular Picks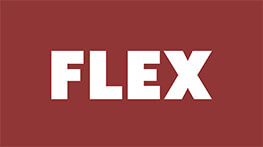 FLEX. The Original
All professionals who have worked with FLEX power tools recognize what is truly important: well thought out design and proven quality solutions. Our success is based on innovation. That was the case in 1922, when we developed hand-controlled tools powered by stationary electric motors through flexible shafts. It did not change in 1954, when we launched the first high-speed angle grinder, the DL 9 – inventing "FLEXing" in the process.
We did not stop there. To make our angle grinders even more reliable, effective and user-friendly, we continued developing. In 1997 we were the first electric power tool manufacturer to introduce the long-neck sander for ceilings and walls – the FLEX Giraffe® - and the latest Giraffe generation is now available.
And we are keeping up the pace. FLEX is putting all of its experience toward new "problem solvers". Come and discover what we have to offer!