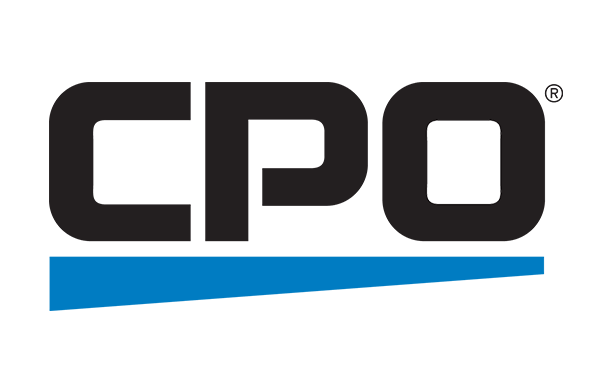 Why a Snow Blower?
Also called snow throwers, snow blowers provide unmatched value during the winter season. Snow blowers are an effective and speedy way to clear driveways, sidewalks, and create paths through snow and ice, making certain that any pathways are safe for use. With the help of CPO's Snow Blower Buying Guide, you can make an informed decision on which model is right for your needs.
Types of Snow Blower
Single Stage Snow Blowers
Optimal for level, midsized paved driveways and walks. Not advised to use on loose gravel
Capable of clearing snow levels up to 6-8 inches deep
Available in gas as well as electric models
Single Stage Snow Blower - Throws snow once
Fairly light; takes up approx. storage space equal to a lawn mower
Lower height than two stage snow blowers - not optimal for higher snow drifts
Two Stage Snow Blowers
Two Stage Snow Blowers are more powerful than their single stage counterparts
Perfect for both commercial and home use
Throw snow twice; Equipped with auger and impeller, tosses snow and blows it away
Best for long driveways, loose gravel, and level concrete as the auger doesn't touch the ground
Can clear large, deep expanses of snow, snow drifts, and mounds
Only available with gas engine
Electric Snow Thrower
Electric Snow Throwers are excellent for small single-family homes
Can clear light snow from sidewalks and small driveways
Inexpensive and maintenance-free
Compact size, light, and quiet
No driven wheels; propelled by the rubber-tipped auger
Comes as either cordless or corded models; limited range and maneuverability for corded models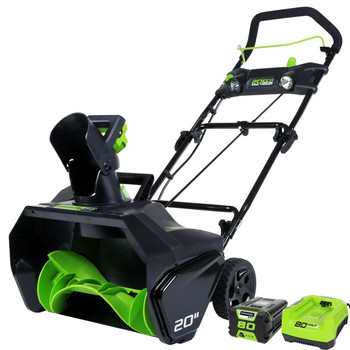 Snow Blower Comparison Chart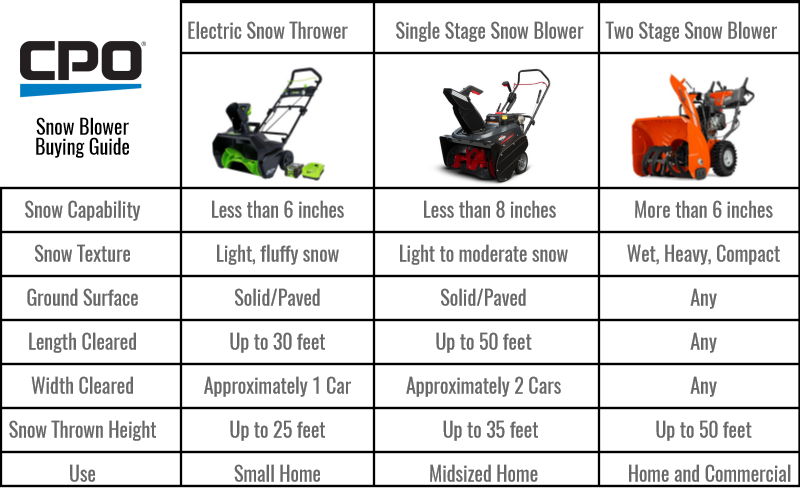 Features to Consider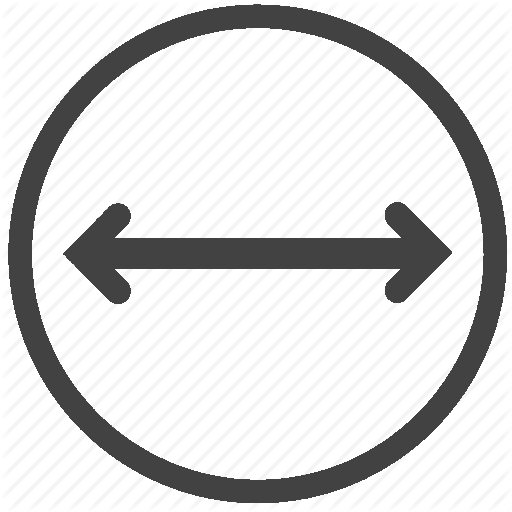 Size
Ranging from compact to commercial sizes, pick the right snow blower for your needs. Larger snow blowers are great for areas with heavy snowfall, compact models are perfect for low to moderate snowfall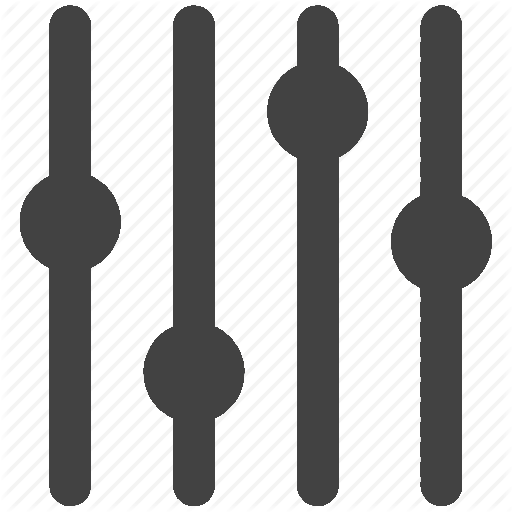 Controls
An important aspect of any snow blower, some controls to consider are: Dead-man switch, discharge chute, power steering, single-hand operation, and wheel power controls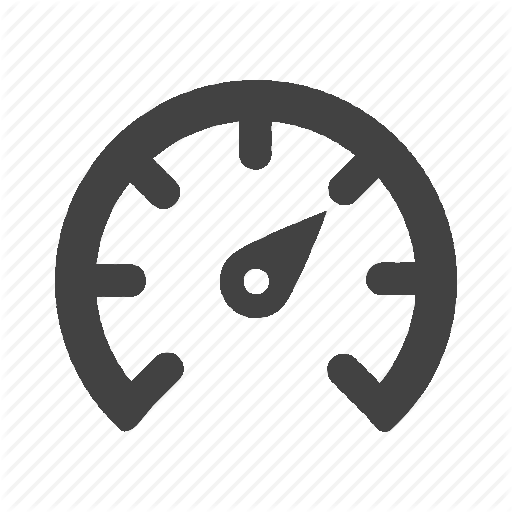 Speeds
Multiple speed settings give enhanced control and can help prevent clogging. Single-stage snow blowers do not offer many speed settings, but Two-Stage models give several different options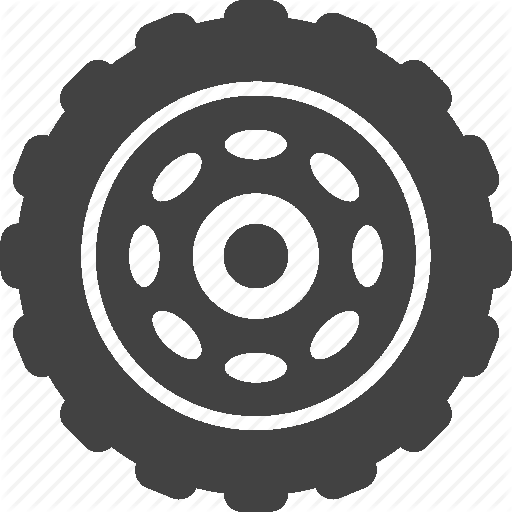 Tires
Tires can play an important factor for your snow blower purchase. Smaller tires mean easier storage, larger tires mean better maneuverability. Certain models have tracks or treads which are helpful in icy, rocky, and sandy environments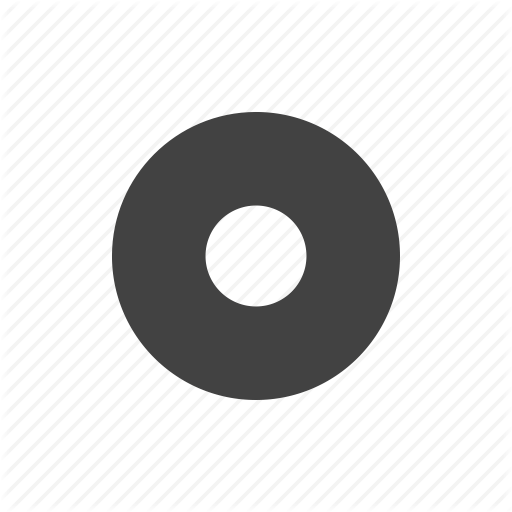 Start
Dependent on model. All electric models have a push-button start, while gas models come with either a push-button start or pull cord.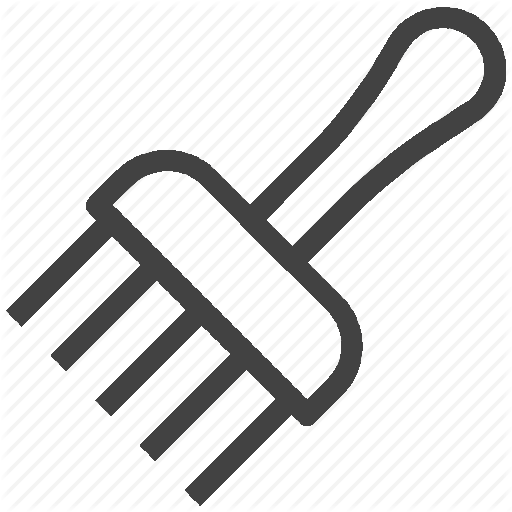 Clearing Tools
Clearing tools help to easily clean out a clogged snow blower while protecting you from injury to your hands or arms. Some models come with the tool, others are purchased separately
Conclusion
Homeowners, property managers, and commercial users alike can benefit from the value a snow blower provides. They are a worthwhile investment, saving time as well as helping you to avoid the backbreaking labor that shoveling requires. Don't let the winter catch you unprepared, shop for the perfect snow blower for your needs today.