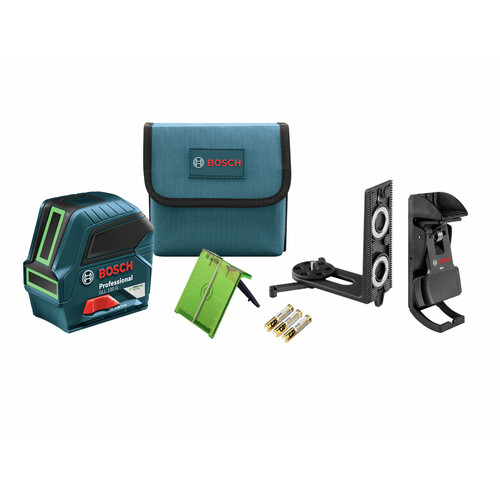 Enter your email address and we'll let you know when it's available
OUT OF STOCK
Product Features & specs :
Bosch GLL 100 GX Green Beam Self-Leveling Cordless Cross-Line Laser
Details
The Bosch GLL 100 GX Green-Beam Self-Leveling Cross-Line Laser features a laser with vertical, horizontal and cross-line modes. The laser projects two lines independently or together, for a broad array of alignment and leveling applications. It includes Bosch-exclusive VisiMax technology, which allows for outstanding line visibility in standard working conditions. It constantly monitors the laser's temperature so the diodes are always driven to maximum line visibility, while protecting the laser diodes from overheating. Green beams are up to 4X brighter than standard red beams, and this gives the tool a working range up to 100 ft. The tool offers an accuracy of ± 1/8 in. at 33 ft. and ± 3/8 in. at 100 ft. The Bosch Smart Pendulum System self-levels and indicates out-of-level condition, to help ensure an accurate layout. It locks the pendulum after the laser is switched off for secure transport. The laser is built with sturdy over-molded construction with an IP 54 rating to protect against dust and water. The included BM3 Positioning Device offers quick setup in ceiling grid applications and free-standing mode with its retractable feet and microfine height adjustment. The package also includes a heavy-duty pouch.
Features:
Bright green-beam laser - up to 4X brighter than standard red beams

Laser Class: Class II, Wavelength (Laser Diode): 500 - 540 nm

Easy-to-use laser setup modes - projects vertical, horizontal and cross lines

Versatile job layout - lines can be projected separately or together for a variety of level and alignment applications

Smart pendulum system - allows tool to self-level, and it indicates out-of-level condition
What's Included:
GRN Beam Self-Leveling Cross-Line Laser - GLL 100 G

(3) AA Batteries

Positioning Device - BM 3

Green Laser Target Plate

Heavy-Duty Pouch
Operating Temperature (F)
1/4 in - 20 in / 5/8 in - 11 in
Warranty:
Bosch Laser & Measuring Tools Warranty
Robert Bosch Tool Corporation ("Seller") warrants to the original purchaser only, that all Bosch lasers and measuring tools will be free from defects in material or work­manship for a period of one (1) year from date of purchase. Bosch will extend warranty coverage to two (2) years when you register your product within eight (8) weeks after date of purchase. Product registration card must be complete and mailed to Bosch (postmarked within eight weeks after date of purchase), or you may register on-line at www.boschtools.com/service/productregistration.
If you choose not to register your product, a one (1) year limited warranty will apply to your product. 30 Day Money Back Refund or Replacement If you are not completely satisfied with the performance of your laser or optical instrument, for any reason, you can return it to your Bosch dealer within 30 days of the date of purchase for a full refund or replacement. To obtain this 30-Day Refund or Replacement, your return must be accompanied by the original receipt for purchase of the laser or optical instrument product. A maximum of 2 returns per customer will be permitted.