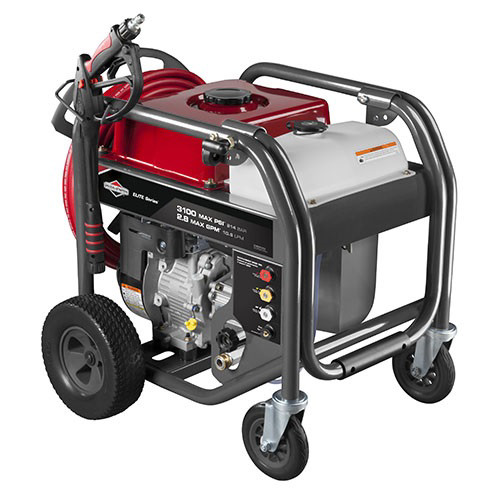 Briggs & Stratton 20541 3,100 PSI 2.8 GPM Gas Pressure Washer with 4-Wheel Design
Model:

bgsn20541
We're sorry, but this item is no longer available.
Briggs & Stratton 20541 3,100 PSI 2.8 GPM Gas Pressure Washer with 4-Wheel Design
Model:

bgsn20541
Product Features & specs :
Briggs & Stratton 20541 3,100 PSI 2.8 GPM Gas Pressure Washer with 4-Wheel Design
Details
The Briggs & Stratton 900 Series engine provides power to clean driveways, patios and fences. Designed with the user in mind, the 20541 3,100 PSI 2.8 GPM Gas Pressure Washer features 4 wheels for easy maneuverability, a 3 position fold-down handle for compact storage, and a 3 gallon fuel tank for longer run times.
Features:
Powerful Briggs & Stratton 900 Series OHV Engine is heavy-duty, easy starting, fuel efficient and features Overhead Valve (OHV) technology to run cooler and last longer
4-wheel design offers increased maneuverability, with locking caster wheels for more stability
4 Quick-Connect Spray Tips offer predefined spray patterns for precise control (0 deg., 15 deg., 40 deg., & Low Pressure/Soap)
3-position fold-down handle for easy maneuverability as well as compact storage
40 ft. high pressure hose for extended reach to projects without having to move the unit and Detergent Injection System includes 1 gallon onboard detergent tank and easily/automatically adds cleaning solutions to the water stream, making projects faster and easier
Extra large 3 gallon fuel tank offers longer run time of up to 7 hours
Maintenance-free axial cam pump with Easy Start Technology for high pressure output and easy, low-effort starting
What's Included:
3,100 PSI 2.8 GPM Gas Pressure Washer with 4-Wheel Design - 20541
Adjustable Pressure Regulation
Chemical Injection Method
Max. Water Flow Rate (GPM)
Max. Water Pressure (PSI)
Warranty:
Briggs and Stratton Pressure Washers Limited Warranty
Briggs and Stratton Power Products Group, LLC will repair or replace, free of charge, any part(s) of the pressure washer* that is defective in material or workmanship or both. Transportation charges on product submitted for repair or replacement under this warranty must be borne by purchaser. This warranty is effective for the time periods and subject to the conditions stated below. For warranty service, find the nearest Authorized Service Dealer in the dealer locator map at BriggsandStratton.com.
THERE IS NO OTHER EXPRESS WARRANTY. IMPLIED WARRANTIES, INCLUDING THOSE OF MERCHANTABILITY AND FITNESS FOR A PARTICULAR PURPOSE, ARE LIMITED TO ONE YEAR FROM PURCHASE, OR TO THE EXTENT PERMITTED BY LAW. ANY AND ALL IMPLIED WARRANTIES ARE EXCLUDED. LIABILITY FOR INCIDENTAL OR CONSEQUENTIAL DAMAGES ARE EXCLUDED TO THE EXTENT EXCLUSION IS PERMITTED BY LAW. Some states or countries do not allow limitations on how long an implied warranty lasts, and some states or countries do not allow the exclusion or limitation of incidental or consequential damages, so the above limitation and exclusion may not apply to you. This warranty gives you specific legal rights and you may also have other rights which vary from state to state or country to country.
WARRANTY PERIOD
Consumer Use - 2 Years
Commercial Use - 2 Years
The warranty period begins on the date of purchase by the retail consumer or commercial end user, and continues for the period of time stated above. "Consumer use" means personal residential household use by a retail consumer. "Commercial use" means all other uses, including use for commercial, income producing or rental purposes. Once equipment has experienced commercial use, it shall thereafter be considered as commercial use for purpose of this warranty.
NO WARRANTY REGISTRATION IS NECESSARY TO OBTAIN WARRANTY ON BRIGGS AND STRATTON PRODUCTS. SAVE YOUR PROOF OF PURCHASE RECEIPT. IF YOU DO NOT PROVIDE PROOF OF THE INITIAL PURCHASE DATE AT THE TIME WARRANTY SERVICE IS REQUESTED, THE MANUFACTURING DATE OF THE PRODUCT WILL BE USED TO DETERMINE THE WARRANTY PERIOD.
* Technical support, replacement parts and warranty repair for the pump is exclusive responsibility of CAT PUMPS, 763-780-5440.
ABOUT YOUR WARRANTY
We welcome warranty repair and apologize to you for being inconvenienced. Any Authorized Service Dealer may perform warranty repairs. most warranty repairs are handled routinely, but sometimes requests for warranty service may not be appropriate. For example, warranty service would not apply if equipment damage occurred because of misuse, lack of routine maintenance, shipping, handling, warehousing or improper installation, Similarly, the warranty is void if the manufacturing date or serial number on the pressure washer or engine has been removed or the equipment has been altered or modified. During warranty period, the Authorized Service Dealer, at it's option, will repair or replace any part that, upon examination, is found to be defective under normal use and service. This warranty will not cover the following:
NORMAL WEAR: Outdoor Power Equipment, like all mechanical devices, needs periodic parts and service to perform well. This warranty does not cover repair when normal use has exhausted the life of a part or the equipment.
INSTALLATION AND MAINTENANCE: This warranty does not apply to equipment or parts that have been subjected to improper or unauthorized installation or alteration and modification, misuse, negligence, accident, overloading, overspeeding, improper maintenance, repair or storage so as, in out judgement, to adversely affect its performance and reliability. This warranty also does not cover normal maintenance such as filters, adjustments, fuel system cleaning and obstruction (due to chemical, lime, dirt, and so forth).
OTHER EXCLUSIONS: This warranty excludes wear items such as quick couplers, seals, o-rings, pumps that have been run without water supplied or damage or malfunctions resulting from accidents, abuse, modifications, alterations, or improper servicing or freezing or chemical deterioration. Accessory parts, such as guns, hoses, nozzle extensions (wands), and nozzles, are excluded from the product warranty. This warranty excludes used, reconditioned and demonstration equipment and failures due to acts of God and other force majeure beyond the manufacturers control.
BRIGGS AND STRATTON POWER PRODUCTS GROUP, LLC JEFFERSON, WI, USA