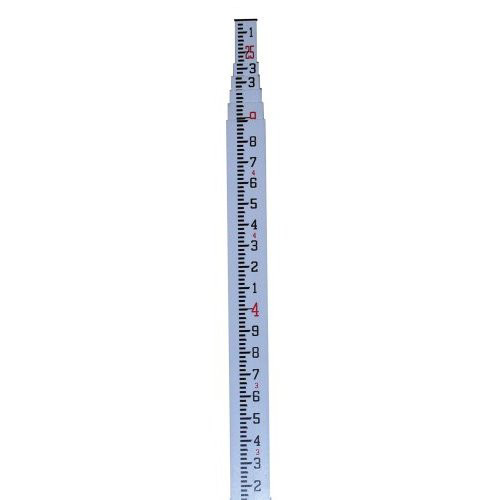 CST/berger 06-925 MeasureMark 25 ft. Fiberglass Grade Rod in ft., Tenths, and Hundredths
CST/berger Model:

cstn06-925
Enter your email address and we'll let you know when it's available
OUT OF STOCK
CST/berger 06-925 MeasureMark 25 ft. Fiberglass Grade Rod in ft., Tenths, and Hundredths
CST/berger Model:

cstn06-925
Product Features & specs :
CST/berger 06-925 MeasureMark 25 ft. Fiberglass Grade Rod in ft., Tenths, and Hundredths
Details
Features:
Rectangular fiberglass rod easily accepts any rod mounted laser detector bracket

Universal spring loaded button assembly is interchangeable between sections

Snug fitting telescoping sections reduce side to side wobble

25 ft. extended length with graduations in ft. and 10ths

Includes heavy-duty carrying bag
What's Included:
MeasureMark 25-ft Fiberglass Grade Rod in ft., Tenths, and Hundredths - 06-925

Heavy Duty Carrying Bag
Warranty:
CST/berger Standard Warranty

Torpedo Levels
Gizmo & Gizlt Series
Tapes (Ny-Clad & Fiberglass)
Tripods
Measuring Wheels
LaserCross
Rods

Laser Detectors (LD100N, LD120, LD400)
Wizard Rotary Lasers (LM30)
MP5
MP3
ILM Series
LM1000X
Berger 135, 136, 140, 190, 200, 300
SCT1
Theodolite (DGT10/DGT02)
CAL Auto Level
Prisms- 65-1500/M
Prisms- 63-3022
Prism Poles (67-46XX Series)
Prism Poles (67-47XX Series)

LMH Series(LMH,LMH-C,LMH-GR,LMH600)
LM700
Total Station
Pipe Laser

ALH Series
Berger 203BU
Prisms (63-2010/M) Yoke & Holder Only
Prisms- 63-3010

Auto Levels (SAL20, SAL24, SAL28, SAL32)
Magna Trak 100 Series (MT100, MT101, MT102)

Magna Trak 200 Series(MT200, MT202)

CST/berger, warrants optical instruments, rotary lasers, straight line lasers and locators against defects in material and workmanship within warranty period listed from the date of purchase. Deficient products will be repaired or replaced at CST/Berger's discretion.

CST/berger's liability under this warranty is limited to repair or replacement of the unit. Any attempt to repair the product by other than factory authorized personnel will void this warranty. Calibration, batteries and maintenance are the responsibility of the user. Where permitted by law, CST/berger is not responsible for incidental or consequential damage beyond normal wear. This includes, but not limited to: dropped instruments (paint damaged; broken compensator wires; broken eyepiece and/or crosshairs), instruments that show signs of severe water damage, broken or bent hardware.

Agents of CST/berger cannot change this warranty. CST/berger is not responsible for damage resulting from wear, abuse, or alteration of this product. The user is expected to follow ALL operating instructions.

This warranty may provide you with additional rights that vary by state, province or nation.