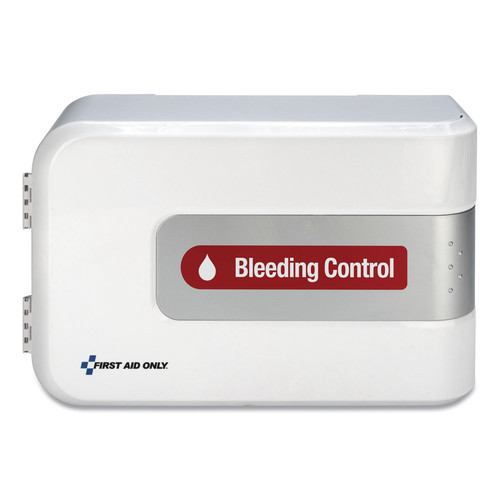 First Aid Only 91161 56-Piece Texas Bleeding Control Cabinet Kit
First Aid Only Model:

faon91161
FREE shipping on orders $149+
First Aid Only 91161 56-Piece Texas Bleeding Control Cabinet Kit
First Aid Only Model:

faon91161
Product Features & specs :
First Aid Only 91161 56-Piece Texas Bleeding Control Cabinet Kit
Details
Bleeding Control Cabinet that meets requirements of Texas Mandate HB496. Bleeding Control Cabinet of 4 kits that empower a first responder bystander with the right tools to stop a life-threatening blood loss before professional help arrives.
The Bleeding Control cabinet with 4 kits meets the Texas mandate to have kits in all schools. The kit provides all the tools required to handle serious multiple-wound limb or torso bleeding wounds. It is equipped with a windlass-style and a back-up limb tourniquet, a blood-clotting hemostatic gauze pad, a chest seal for lung wounds, a highly absorbent Hema-Seal trauma dressing and additional wound dressings. Also included are a pair of protective nitrile exam gloves, bandage shears to cut away clothing, an aluminized blanket to keep the victim warm and a marker to denote the time the tourniquet was applied. The kit comes in an organized, easy access pouch so you can find supplies in a hurry.
Features:
(4) Bleeding Control Kits in a Cabinet to Handle serious multiple-wound limb or torso bleeding wounds

A windlass-style and a back-up limb tourniquet

A blood-clotting hemostatic gauze pad

A chest seal for lung wounds

A highly absorbent Hema-Seal trauma dressing

An aluminized blanket to keep the victim warm

Bandage shears to cut away clothing and a marker to denote the time the tourniquet was applied

Comes in an organized, easy access pouch so you can find supplies in a hurry
What's Included:
(4-Pc.) Windlass Tourniquet

(4-Pc.) Back-up Elastic Tourniquet

(4-Pc.) 4 in. x 4 in. Hemostatic Blood-Clotting Gauze Pads

(4-Pc.) Hema-Seal Trauma Dressing

(4-Pc.) Aluminized Rescue/Shock Blankets

(4-Pc.) 5 in. x 9 in. Trauma Dressing Pads

(4-Pc.) Bandage Shears

(4-Pc.) Markers to Note Tourniquet Time

(4-Pc.) Bleeding Control Product Usage Guidelines

(8-Pc.) Non-Vented Chest Seals

(8-Pc.) Protective Nitrile Exam Gloves

(4-Pc.) Fabric Zippered Pouches