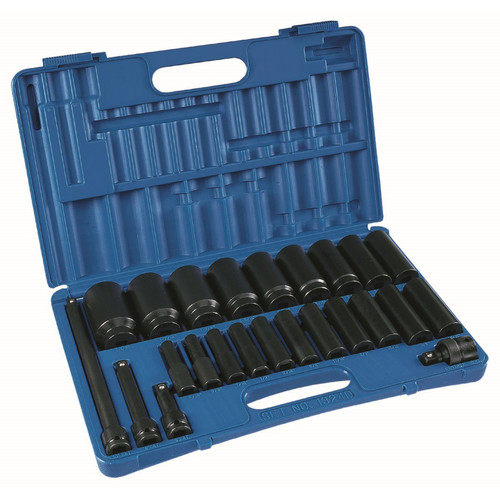 Want an email when this item is in stock?
OUT OF STOCK
Product Features & specs :
Grey Pneumatic 1324D 24-Piece 1/2 in. Drive Deep Socket Set
Details
Good ratchet sets are only as good as your corresponding sockets. Offering deep length sizes, the 24-Piece 1/2 in. Drive Deep Socket Set accommodates your socketing needs. Made of high quality alloy steel and delivering high torque drive, these sockets combine increased strength and durability. The high torque drive of these sockets provides increased strength through the transfer of pressure from the thinnest part of the socket wall toward the thicker section. Designed for professional tool users, this set is applicable for tightening and loosening bolts, auto repair, and mechanical work.
Features:
High quality alloy steel (chrome-molybdenum) construction with exact heat treatment ensures the correct balance of strength and durability
High torque drive provides increased strength through the transfer of pressure from the thinnest part of the socket wall toward the thicker section
A reduction in wall thickness increases socket's capability of being used in tight areas
Sockets grip the fastener across a broader contact area, reducing the chance of rounding off fasteners
Molded case with handle allows easy storage and convenience while working
What's Included:
1/2 in. Drive 1/2 in. Friction Ball U-Joint - 2229UJ
1/2 in. Drive 10 in. Length Friction Ball Extension - 2210E
1/2 in. Drive 3 in. Length Friction Ball Extension - 2243E
1/2 in. Drive 5 in. Length Friction Ball Extension - 2245E
Molded Storage Case
1/2 in. Drive 5/16 in. Deep Length Impact Socket - 2010D
1/2 in. Drive 3/8 in. Deep Length Impact Socket - 2012D
1/2 in. Drive 7/16 in. Deep Length Impact Socket - 2014D
1/2 in. Drive 1/2 in. Deep Length Impact Socket - 2016D
1/2 in. Drive 9/16 in. Deep Length Impact Socket - 2018D
1/2 in. Drive 5/8 in. Deep Length Impact Socket - 2020D
1/2 in. Drive 11/16 in. Deep Length Impact Socket - 2022D
1/2 in. Drive 3/4 in. Deep Length Impact Socket - 2024D
1/2 in. Drive 13/16 in. Deep Length Impact Socket - 2026D
1/2 in. Drive 7/8 in. Deep Length Impact Socket - 2028D
1/2 in. Drive 15/16 in. Deep Length Impact Socket - 2030D
1/2 in. Drive 1 in. Deep Length Impact Socket - 2032D
1/2 in. Drive 1-1/16 in. Deep Length Impact Socket - 2034D
1/2 in. Drive 1-1/8 in. Deep Length Impact Socket - 2036D
1/2 in. Drive 1-3/16 in. Deep Length Impact Socket - 2038D
1/2 in. Drive 1-1/4 in. Deep Length Impact Socket - 2040D
1/2 in. Drive 1-5/16 in. Deep Length Impact Socket - 2042D
1/2 in. Drive 1-3/8 in. Deep Length Impact Socket - 2044D
1/2 in. Drive 1-7/16 in. Deep Length Impact Socket - 2046D
1/2 in. Drive 1-1/2 in. Deep Length Impact Socket - 2048D
Chrome Molybdenum Alloy Steel