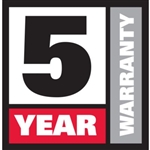 All Jet wood lathes come with an industry leading 5 year warranty for private use, and 1 year warranty for commercial, industrial, reconditioned, or educational use. This warranty covers any defects in workmanship or materials for the wood lathe from the time purchased through the life of the warranty.
For assistance after a warranty has expired, Walter Meier, the manufacturer of Jet wood lathe products, has over 750 authorized service centers throughout the United States to help keep your wood lathe in premium shape.
A complete line of all Jet wood lathe parts is offered directly by CPO Jet Tools, if you happen to need a replacement part for any model of Jet wood lathe, give us a call at 866-577-1759 and member of our pro team will help you find the part you need.