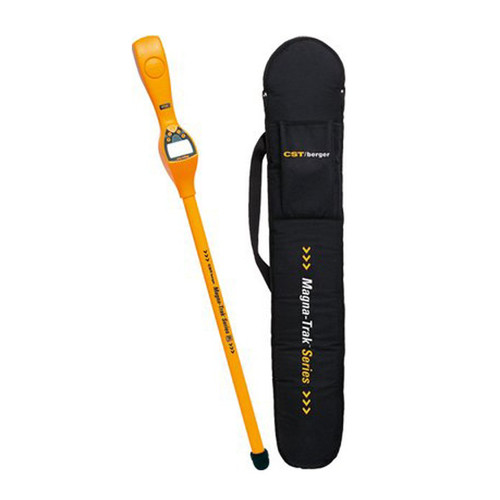 CST/berger 19-202SC MT202SC, Magna-Trak 200 Series Magnetic Locator with Soft Case
CST/berger Model:

cstn19-202sc
FREE shipping on orders $149+
This item ships directly from the manufacturer.
CST/berger 19-202SC MT202SC, Magna-Trak 200 Series Magnetic Locator with Soft Case
CST/berger Model:

cstn19-202sc
Product Features & specs :
CST/berger 19-202SC MT202SC, Magna-Trak 200 Series Magnetic Locator with Soft Case
Features:
Rugged high-impact plastic enclosure with aluminum sensor pole

Powerful magnetic speaker with molded cover to protect speaker from direct contact of water and dust

Lightweight and comfortably balanced for easy handling

Easy view LCD display for visual signal strength and informative indicators

LCD display includes two digit numeric signal indicator, expanding analog bar-graph signal indicator, and flashing Low Battery indicator

Power line indicator displays a flashing "CAUTION! Power Line" in the display window when the electromagnetic fields radiated from buried or overhead power lines are picked up by the new sensitive electronic circuitry

Patented electronic balancing procedure allows balancing to be done quickly and efficiently

Approximately 100 hours of operation before batteries need changing

Quick-access battery compartment

Adjustable sensitivity and volume controls with single hand operated increment / decrement touch buttons

Internal microcontroller will remember and return to the last sensitivity level selected the next time the instrument is turned on

Single hand touch-switch operation for power on/off

Erase button to virtually erase interferences such as a nearby fence allowing the signal to return to the normal audio tone

Deep tone audio signals peak over magnetic objects to easily narrow down searches

The tube is waterproof to just under the plastic housing, the housing is water-resistant
What's Included:
MT202SC, Magna-Trak 200 Series Magnetic Locator - 19-202SC

Soft Carrying Case

Instruction Manual
Max. Operating Temperature (F)
Warranty:
CST/berger Standard Warranty

Torpedo Levels
Gizmo & Gizlt Series
Tapes (Ny-Clad & Fiberglass)
Tripods
Measuring Wheels
LaserCross
Rods

Laser Detectors (LD100N, LD120, LD400)
Wizard Rotary Lasers (LM30)
MP5
MP3
ILM Series
LM1000X
Berger 135, 136, 140, 190, 200, 300
SCT1
Theodolite (DGT10/DGT02)
CAL Auto Level
Prisms- 65-1500/M
Prisms- 63-3022
Prism Poles (67-46XX Series)
Prism Poles (67-47XX Series)

LMH Series(LMH,LMH-C,LMH-GR,LMH600)
LM700
Total Station
Pipe Laser

ALH Series
Berger 203BU
Prisms (63-2010/M) Yoke & Holder Only
Prisms- 63-3010

Auto Levels (SAL20, SAL24, SAL28, SAL32)
Magna Trak 100 Series (MT100, MT101, MT102)

Magna Trak 200 Series(MT200, MT202)

CST/berger, warrants optical instruments, rotary lasers, straight line lasers and locators against defects in material and workmanship within warranty period listed from the date of purchase. Deficient products will be repaired or replaced at CST/Berger's discretion.

CST/berger's liability under this warranty is limited to repair or replacement of the unit. Any attempt to repair the product by other than factory authorized personnel will void this warranty. Calibration, batteries and maintenance are the responsibility of the user. Where permitted by law, CST/berger is not responsible for incidental or consequential damage beyond normal wear. This includes, but not limited to: dropped instruments (paint damaged; broken compensator wires; broken eyepiece and/or crosshairs), instruments that show signs of severe water damage, broken or bent hardware.

Agents of CST/berger cannot change this warranty. CST/berger is not responsible for damage resulting from wear, abuse, or alteration of this product. The user is expected to follow ALL operating instructions.

This warranty may provide you with additional rights that vary by state, province or nation.