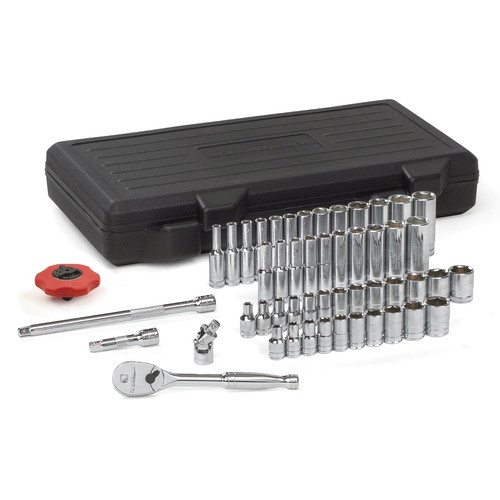 GearWrench 80300 51-Piece 6-Point SAE/Metric 1/4 in. Drive Socket Set
GearWrench Model:

kdtn80300
FREE shipping on orders $149+
This item ships from manufacturer; get it in 2-5 days
GearWrench 80300 51-Piece 6-Point SAE/Metric 1/4 in. Drive Socket Set
GearWrench Model:

kdtn80300
Product Features & specs :
GearWrench 80300 51-Piece 6-Point SAE/Metric 1/4 in. Drive Socket Set
Details
GEARWRENCH Original ratcheting wrenches combine the speed of a ratchet with the access and control of a wrench. They offer the ease of 5 Degrees of movement to turn fasteners, versus 30 Degrees on standard combination wrenches. The small ratcheting box end head design enables access to tight spots where a ratchet won't fit. The open end allows for easier access on tough to reach spots, making jobs go faster and easier. This set is a great addition to any mechanic tools collection.
Features:
90-tooth gear delivers a 4-Degree swing arc to turn a fastener in tight confines

Includes a thumbwheel ratchet for access to tight spaces

Sockets feature off-corner loading design to reduce fastener rounding

Full polish chrome sockets with large hard stamp size markings

Knurled full polish chrome extensions

Includes blow mold case for storage and organization

Meets or exceeds ASME specifications
What's Included:
1/4 in. Drive Universal Joint - 80100

1/4 in. Drive 6-Point 3/16 in. Standard SAE Socket - 80105

1/4 in. Drive 6-Point 7/32 in. Standard SAE Socket - 80106

1/4 in. Drive 6-Point 1/4 in. Standard SAE Socket - 80107

1/4 in. Drive 6-Point 9/32 in. Standard SAE Socket - 80108

1/4 in. Drive 6-Point 5/16 in. Standard SAE Socket - 80109

1/4 in. Drive 6-Point 11/32 in. Standard SAE Socket - 80110

1/4 in. Drive 6-Point 3/8 in. Standard SAE Socket - 80111

1/4 in. Drive 6-Point 7/16 in. Standard SAE Socket - 80112

1/4 in. Drive 6-Point 1/2 in. Standard SAE Socket - 80113D

1/4 in. Drive 6-Point 9/16 in. Standard SAE Socket - 80114D

1/4 in. Drive 6-Point 3/16 in. Deep SAE Socket - 80115

1/4 in. Drive 6-Point 7/32 in. Deep SAE Socket - 80116D

1/4 in. Drive 6-Point 1/4 in. Deep SAE Socket - 80117

1/4 in. Drive 6-Point 9/32 in. Deep SAE Socket - 80118

1/4 in. Drive 6-Point 5/16 in. Deep SAE Socket - 80119

1/4 in. Drive 6-Point 11/32 in. Deep SAE Socket - 80120D

1/4 in. Drive 6-Point 3/8 in. Deep SAE Socket - 80121

1/4 in. Drive 6-Point 7/16 in. Deep SAE Socket - 80122D

1/4 in. Drive 6-Point 1/2 in. Deep SAE Socket - 80123

1/4 in. Drive 6-Point 9/16 in. Deep SAE Socket - 80124

1/4 in. Drive 6-Point 4mm Standard Metric Socket - 80125

1/4 in. Drive 6-Point 5mm Standard Metric Socket - 80126

1/4 in. Drive 6-Point 5.5mm Standard Metric Socket - 80127

1/4 in. Drive 6-Point 6mm Standard Metric Socket - 80128

1/4 in. Drive 6-Point 7mm Standard Metric Socket - 80129

1/4 in. Drive 6-Point 8mm Standard Metric Socket - 80130

1/4 in. Drive 6-Point 9mm Standard Metric Socket - 80131D

1/4 in. Drive 6-Point 10mm Standard Metric Socket - 80132

1/4 in. Drive 6-Point 11mm Standard Metric Socket - 80133

1/4 in. Drive 6-Point 12mm Standard Metric Socket - 80134

1/4 in. Drive 6-Point 13mm Standard Metric Socket - 80135D

1/4 in. Drive 6-Point 14mm Standard Metric Socket - 80136

1/4 in. Drive 6-Point 15mm Standard Metric Socket - 80137

1/4 in. Drive 6-Point 4mm Deep Metric Socket - 80138

1/4 in. Drive 6-Point 5mm Deep Metric Socket - 80139

1/4 in. Drive 6-Point 5.5mm Deep Metric Socket - 80140

1/4 in. Drive 6-Point 6mm Deep Metric Socket - 80141

1/4 in. Drive 6-Point 7mm Deep Metric Socket - 80142

1/4 in. Drive 6-Point 8mm Deep Metric Socket - 80143

1/4 in. Drive 6-Point 9mm Deep Metric Socket - 80144

1/4 in. Drive 6-Point 10mm Deep Metric Socket - 80145

1/4 in. Drive 6-Point 11mm Deep Metric Socket - 80146D

1/4 in. Drive 6-Point 12mm Deep Metric Socket - 80147

1/4 in. Drive 6-Point 13mm Deep Metric Socket - 80148

1/4 in. Drive 6-Point 14mm Deep Metric Socket - 80149

1/4 in. Drive 6-Point 15mm Deep Metric Socket - 80150

1/4 in. Drive 72-Tooth Thumbwheel Ratchet - 81008

1/4 in. Drive 2 in. Extension - 81101

1/4 in. Drive 6 in. Extension - 81116